Meet Miles – Sweet Lab Seeking Forever Home – Adopted
 Sweet Lab Seeking Forever Home
Everyone loves a sweet older Lab so it's a complete mystery to me why Miles is still at the shelter after so many months. Miles is a 10 year old male Labrador Retriever that knows how to sit and lay down on command. The shelter is recommending that he goes to a home with no other pets. Although he's 10 years old he's got a lot of love and companionship yet to give to that special someone.
Miles' adoption fee has been covered by a very generous donor in honor of his father – he's wishing to see this sweet lab seeking a forever home adopted soon. The Oakland County Animal Adoption center is also hoping to find Miles a home where he can enjoy his golden years with the love and care he deserves.
Come in and visit Miles at the Oakland County Adoption Center:
1700 Brown Road
Auburn Hills, MI 48326
*The Oakland County shelter is near capacity – they're currently offering cats 6 months or older at no charge to approved adopters.
Happy Tails
Tanner
Tanner the lovable 2 year old energetic yet reserved Border Collie mix has been finally been adopted. Tanner waited for over a year at the shelter until the right family came along. He was adopted earlier this week and you can check out a sweet video of him playing and settling right in with his new forever family.
Simone
On July 30 Simone came into the shelter as a stray – no one came looking for her. She was at the shelter for a month and she remained calm and loving yet she was being passed by. She was placed on the urgent list and it looked like time might run out. She finally got her second chance – Simone was adopted on September 28, her new family is already in love with her.
Sawyer
8 year old Sawyer was surrendered to the shelter back in August of 2013. She received a lot of compliments about her great manners but she kept getting passed up. I'm happy to report that after nearly a year in the shelter Sawyer was adopted on September 5.
Smiling Dogs
I'd like to thank everyone for their interest in the smiling dogs after being adopted posts. I'm going to be adding it as a regular feature called Happy Tails with adoption photos from a different shelter with each post. It's a great chance to show the happy endings that make all the hard work shelter staff does worthwhile and give a shot out to some really great organizations. Thanks again for all your input it's greatly appreciated.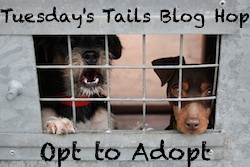 The Tuesdays Tails Blog Hop is hosted by Talking Dogs and Dogs N Pawz. Each Tuesday this hop features amazing shelter animals in need of a forever home. Don't forget to visit the other posts and share their stories to help spread the word about these deserving pets seeking a family to call their own.