Michigan Market to Hold Animal Adoptions Every Saturday
There's a new place to adopt a pet in Michigan on Saturday's and it's probably not what you're expecting – it's the Gibralter Trade Center. The center is one of Michigan's biggest weekend public markets, and they have over 2 million shoppers visit each year.
Gibralter has faced ridicule from animal advocates over the past few years because of their pet shopping policy. The pet store Pollywood Pets, which was a 24 year resident at the center, is currently facing a 31 plaintiff lawsuit claiming that they sold sick puppies. Earlier this year Gibralter declined to renew that store's lease after a 24 year run in the facility.
And now in it's place each Saturday from 10am til 2pm the center will hold animal adoptions hosted by the Macomb County Animal Control & Teacher's Pet. This is great news for those in the metro Detroit are that are interested in adoption but don't have the ability to make it to the shelter during the week.
The animal-control facility will be staffed by volunteers. Dogs, cats and perhaps other domesticated animals that come to the shelter will be available. The fee on a sliding scale ranges from about $50 to $200, depending on the animal. They are spayed or neutered and vaccinated. – Macomb Daily News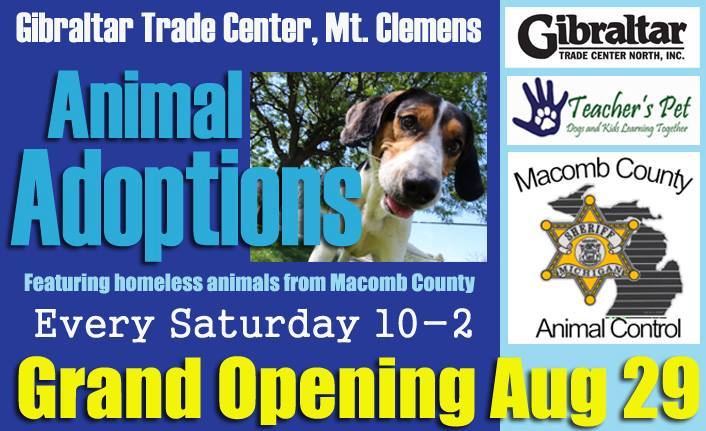 More Great News for Animal Welfare in Michigan
I'm also very happy to announce all the other progress that's been happening with animal welfare here in Michigan over the past few months:
Gibralter Trade Center Adoption Event Details