Duke the Min Pin – 12 Year Old Min Pin – Adopted
It doesn't get any sweeter than Duke; he loves nothing more than snuggling up with you under a nice warm blanket. His cuddle skills make most dogs looks like novices.
Update 02/28/15 – Duke has been adopted.
Duke's owner recently passed away leaving him with no one to care for him. He's a 12 year old male Min Pin that weighs just 11 pounds.
He loves cuddling, sleeping under warm blankets, and getting lots of attention from that special someone.
He gets along well with dogs but he likes to chase cats. He has some problems with his mobility in his hind legs though he's on medication for it. He can get around the house fine but he cannot do steps.
From Duke's foster:
Little Duke is a 12 year old male Min Pin weighing in at about 11 lbs. His owner passed away and there was no one to take care of him. Duke likes to cuddle, sleep under his blanket, and have you give him all kinds of attention. He is not a barker, he does bark, but at the normal things, like the mail man, knock at the door, etc.
If you're looking for a sweet little dog Duke is your guy. He'll make a great loving companion for his new family. If you're interested in Duke he's available for adoption through Last Day Dog Rescue in Livonia, Michigan. If you or anyone you know is looking for a calm dog tell them about Duke the Min Pin – cuddler extraordinairre.
Last Day Dog Rescue has a Seniors for Seniors program: Animal lovers 65 years or older can adopt a dog that's 7 years or older for $35. All dogs are spayed/neutered, up to date on their vaccinations, and microchipped. As with all of their dogs Last Day Dog Rescue agrees to take an animal back in case of an emergency or illness.
Last Day Dog Rescue began in 2006 – they place about 1,000 dogs a year into new homes. They get most of their dogs from high kill shelters in Michigan and Ohio. They don't have a physical sheleter; all of their dogs are placed into foster homes until they're adopted. Their mission is simple:
Do our best to eliminate the stigma of "unadoptability" brought on by breed, age, and physical malady.Work toward creating a world where every pet can enjoy a loving home and provide a way for the public to find their perfect family addition by providing "no kill" resources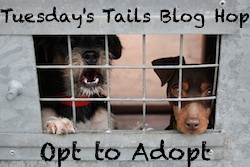 This post is part of the Tuesday's Tails Blog Hop that features adoptable shelter pets. This hop is hosted by Talking Dogs and Dogs N Pawz. In honor of adopt a senior dog month let's find this sweet older fellow the loving home he deserves. Join the hop or help spread the word about all of these wonderful shelter pets.