Happy Tails – Shelter Adoption Smiles
The animal shelter business can take a toll on those involved – it can, and often is heartbreaking work. I want to take a step back and focus on all the happy endings we've seen. These happy tails have completely changed the lives of that animal; and I absolutely love happy endings. For added inspiration and in the spirit of Adopt A Dog Month I'm putting together a series of shelter adoption smiles. I want to thank all of you who work in animal rescue and let you know that you truly are making a difference and saving lives.
Saving one dog will not change the world, but surely for that one dog, the world will change forever.

-Karen Davison
Almost Home Animal Rescue League
Everyone loves happy endings; all of these dogs found their new homes from the Almost Home Animal Rescue League in Southfield, Michigan this year. They're one of my favorite local rescues and they've been working to save homeless animals since 2001.
They work with many frightened, abandoned, abused, and sick animals that are considered "less adoptable" by many. Gail Montgomery who co-founded Almost Home says " There is nothing more rewarding than to help them recover from these traumas. Hugging them, bathing them, loving them and giving them a sense of security is just a start."
They do a wonderful job getting their animals rehabilitated – once they become confident, socialized, and healthy enough they're put up for adoption until they find their forever home.
Here are some of the great shelter adoption smiles they've made possible this year;
Like seeing smiling dogs being adopted? Check out more to see 12 Shelter Dogs Smiling After Being Adopted.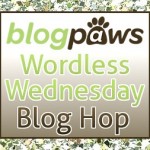 This post is part of the Wordless Wednesday Blog Hop hosted by Blog Paws. Join in and check out all the great posts below. And to show your appreciation for all the hard work of shelter staff everywhere make sure to give them a big thank you next time you see them; they're the ones that make these happy endings possible.