Meet Simone in Genessee County, MI – Adopted
Meet Simone – Available For Adoption in Genessee County, MI
Update 09/28/14 – Simone was adopted after two months in the shelter. Her new family says they're already in love. You can see more about her adoption here.
Simone came into the shelter on July 30, 2014 as a stray. No one came looking for her so now she's looking for a new forever home. She's described as good with kids and most dogs.
Even though she's been at the shelter for more than a month she's remained calm and loving. A meet and greet is always recommended when considering adopting a new companion into your home.
She's available at the Genessee County Animal Control Department located at 4351 W. Pasadena Ave, Flint, MI 48504. Phone: 810-732-1660. Hours of operation are: 10:00 AM to 4:00PM -Monday thru Friday. Adoptions stop at 3:45 PM. Closed Saturdays, Sundays and holidays.
The shelter does not update their petfinder page; if you're going to inquire about Simone please tell them she's in cage 116-114 to help quickly identify her.
The shelter is currently full. They had to stop intake last Friday because they're overflowing with dogs that are looking for homes. Please consider sharing Simone; she deserves a forever family.
If you know anyone whose looking to add a new companion to their home ask them to consider adopting from a shelter.
Check out a great video of Simone on Genesee County's Adoptable Animals facebook page.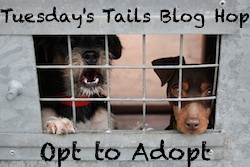 The Tuesday Tailz Blog Hop is hosted by Dogs N Pawz and Talking Dogs.