Meet Tanner The Border Collie Mix – Adopted
Update 10/13/14 – After over a year at the shelter Tanner has been adopted. You can read more about his adoption here.
Tanner is a 2 year old Border Collie mix available for adoption from the Friends of Michigan Animals Rescue in Belleville, Michigan. Like most Border Collies Tanner is an energetic and smart. He'd do well in an active family that will give him the mental and physical exercise he craves. He's reserved around strangers and needs to be slowly introduced to new faces. A home without children is recommended.
From the shelter:
"Tanner is a 2 year and 4 month old Border Collie mix that will whip you out of any blues with his happy, excited wiggle and goofy grin. Tanner loves to play, he loves to walk, and he loves people.
He's been with us at the shelter for over a year and is completely ready for a forever home. Tanner is loved by all the volunteers that spend time with him and he loves them back. Even if he doesn't see someone for a while, when they return, he remembers who they are and greets with a huge smile, wiggly body, and wagging tail.
Sometimes, when Tanner meets someone new he vocalizes his concern at there being a stranger around, but if that person is introduced to Tanner properly, he'll become a fast friend of theirs. In a home we have no doubt Tanner will prove to be a loyal, lovable and treasured furry companion you'll wonder how you ever lived without!
Call today to meet Tanner, you're sure to be glad you did. He's neutered, vaccinated and micro-chipped."
You can contact The Friends of Michigan Animals Rescue at:
51299 Arkona
Belleville, MI 48111 *
Phone: 734-461-9458
shelter1@comcast.net
*Please call ahead of time to make an appointment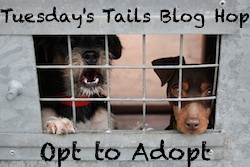 The Tuesday Tails Blog Hop is hosted by Dogs N Pawz and Talking Dogs. This hop features shelter animals looking for forever homes. Next time you're looking to add a new furry family member to your home please consider adopting from your local animal shelter or rescue organization.