Adopt Ella – Gentle Collie Mix – Adopted!
Gentle Collie Mix – Adoptable in Southeast Michigan
Ella is gentle Collie mix that's approximately 7 years and and weighs 54 pounds. She does well with meeting all humans but can be a bit bossy when it comes to meeting new dogs. She'd do best in a home without dogs or with an easy going canine companion. She needs to find a home without cats.
Ella tested heartworm positive when she arrived at the shelter. She's currently undergoing treatment and her last treatment will begin in a couple weeks. She's currently seeking a quiet place to recover. If interested in providing Ella with a foster of forever home please contact A New Leash On Life located in Troy, MI – anewleashonlife@hotmail.com
From the shelter:
Ella is need of a foster or forever home. She's approximately 7 years young and about 54 pounds. Ella is a gentle sweetheart who loves everyone she meets, young and old. She is okay with other dogs, but can be a little bossy so would do best as an only dog or with an easy going canine companion. Ella should not be in a home with cats. She seems to like the one she is currently staying with, but she has also been aggressive with others. Sadly, Ella came to us infected with heartworm. She is currently undergoing treatment and needs a place to stay during her treatment, as well as a forever home. If you are able to provide either, please contact us at anewleashonlife@hotmail.com. We thank you and Ella thanks you!
Ella's adoption fee is $150. A New Leash on Life does same day adoptions so be prepared with a collar, ID, and leash for your new companion.
Still Seeking Homes
A few of the dogs that have been featured in the past are still patiently waiting to be adopted.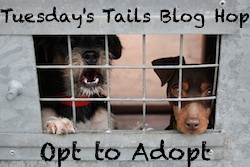 The Tuesday's Tails Blog Hop is hosted by Dogs N Pawz and Talking Dogs. This is the blog hop that features adoptable animals seeking their forever homes. Find an animal in need at your local shelter or rescue and join us. You can also help out by sharing all the lovely animals posted below to help them find their forever homes.