Sweet Senior Chihuahua Seeks Forever Home – Adopted
Sweet Senior Chihuahua Seeks Forever Home
If you're looking for an easy going companion Nena is the girl for you. She's extremely loving, outgoing, and affectionate. She's easy to care for and just wants to spend time with her caregiver. She's currently being fostered in Southeast Michigan by A New Leash On Life.
Nena's previous owner dropper her off a the veterinarian's office to be put down, but A New Leash On Life rescue stepped in and is now seeking a forever home for this charming girl.
Nena thinks belly rubs are the best thing in the world. She loves to play fetch and will immediately roll over after retrieving to be rewarded with a belly rub for her job well done. She's well mannered in the house, potty trained, and gets along with other dogs and cats.
This little Chihuahua is estimated to be between 10-14 years old and weighs 13 pounds. She's a little overweight and is currently on a strict diet and exercise regimen to get her back to a healthy weight.
If you're looking for a laid back companion contact anewleashonlife@hotmail.com for an application for Nena. Check out A New Leash On Life to see more of their adoptable pets or help them out by sharing this lovely girl.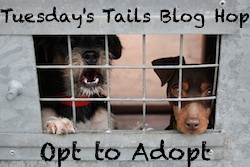 The Tuesday's Tails blog hop is hosted by Dogs N Pawz and Talking Dogs. This is the blog hop that features shelter pets. Find a pet at your local animal shelter or rescue and join us!