Sweet 3 Year Old Dog Charlie Brown Seeks Loving Family
Sweet 3 Year Old Dog Charlie Brown Seeks Loving Family
Charlie Brown is a 3 year old, 47 pound mix that's looking for a loving, patient family. He was found as a stray and is starting to warm up to the shelter staff at Almost Home Animal Rescue League in Southfield, Michigan. He's still getting over some of his fear issues and would like to find a calm and quiet home to help build up his confidence.
He walks nicely on a leash and enjoys getting scratches from familiar faces. Due to his insecurity he takes a little bit of time to warm up to new people. He'd do well in a home with an older, confident dog to show him the ropes. He's all ready for his new forever home.
You can check out his petfinder page or fill out an adoption application at Almost Home.
From Almost Home:
Hi… my name is Charlie Brown. I am a 3-year-old, 47 pound male Malinois/Catahoula mix and I would really love to have a home of my own. I was found trying to convince another dog to share his dog house with me. It was so cold outside and I just wanted a nice, warm place to rest. The other dog really didn't want to share and I ended up getting my nose all scraped up trying to squeeze inside. Luckily, I was spotted and picked up by a nice gentleman and brought to Almost Home, where I got my own little room with a bed and some warm blankets. It's pretty nice here, but I'm very scared. I don't really trust humans yet; fast movements terrify me and I will cower. I tense up whenever I'm touched and, if given the chance, I will hide in whatever small, dark space I can find. You can do just about anything to me and I won't object.
Although I am frightened, I am beginning to enjoy ear-scratches and will come when asked. I even wag my tail if someone familiar approaches, and will roll over on my back for a belly rub if I get too excited! Living out on the streets, I had to scavenge to survive, so I do have a bad habit of "counter surfing". I should be okay once I realize that I don't have to scavenge anymore. I do love puzzle toys with treats inside, but I don't quite understand other types of toys yet. Also, I can climb over your average chain-link fence and will need either taller fences, privacy fences, or supervision while outdoors. I think once I fall in love with a new family, however, I'll have no problem staying at home. The people here say I am making progress quickly and that I will make somebody a wonderful companion someday. I try my hardest, I really do! I walk very nicely on a leash and am pretty good about keeping my space clean.
I come to life around other dogs and would probably do best in a home with a calmer, more confident doggy sibling to show me the ropes. I haven't shown much interest in kitties, though it could be because I'm so scared right now. The people here say I'd probably do just fine with cats, so long as I had a proper introduction. Young children would probably just scare me, so I would do best in an adult-only home, or in a home with calmer, older children. Either way, my future family will need to be very patient with me; I will need to gain some confidence and may need some help overcoming my fear. With a little bit of patience and a whole lot of love, I'm sure I will quickly blossom into your new best friend! If you can find it in your heart to give a scared little guy like me a chance at happiness, please fill out an application and come down to meet me at Almost Home. I have been neutered and brought up to date on my vaccinations, so I am all ready to go home now!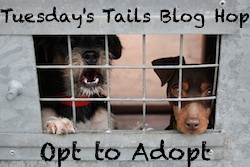 The Tuesday Tails Blog Hop is hosted by Dogs N Pawz and Talking Dogs. This hop features shelter animals looking for forever homes.