Looking For a Laid Back Companion? Check Out Tiger – Adopted
You know how adolescent dogs are pretty much insane, right? Well somehow Tiger missed that memo because he's the most chill dog you could ever meet – and he's only 8 months old.
Update 08/14/15 – Tiger has been adopted 🙂
Looking For a Laid Back Companion?
Tiger might only be 8 months old but he's one laid back dude. He's a beautiful Pit/Mastiff mix that's attentive and already house trained. He's extremely gentle, sweet, and calm.
He loves meeting new people, playing with other dogs, and he does very well with older children. If you're looking for a sweet young family dog Tiger's your guy.
From his rescue:
This hearthrob is looking for a foster or forever home! 6-8 months old, but an old soul. Very calm, sweet, gentle, and loving. Listens well and is house trained. Does well with other dogs. – Home Fur Ever
About Home Fur Ever
Home Fur Ever is a non-profit 501(c)3 foster-based animal rescue group dedicated to providing temporary foster homes for dogs that have been surrendered, abandoned, or found as strays until we can find them a permanent, loving home. We are a volunteer organization committed to providing each fostered dog a loving, caring, and safe environment, so they may flourish in their new 'fur-ever' home.
They hold adoption events every weekend throughout the metro Detroit area. Check out their calendar or follow them on facebook to find out about their upcoming events.
Home Fur Ever encourages the foster to adopt program. Once you meet a dog you're interested in they'll have you submit an application. After the initial approval your dog will go home with you for a couple weeks to make sure it's the perfect match. After you decide you want to make your new companion a permanent member of the family the adoption can be finalized.
 Saving one dog will not change the world, but surely for that one dog, the world will change forever. ― Karen Davison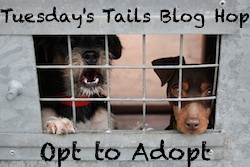 The Tuesdays Tails Blog Hop is hosted by Talking Dogs and Dogs N Pawz. Each week we feature adoptable shelter pets. You can help out by joining in or sharing these awesome pets. We might not be able to change the world; but we can at least make it better for some of these pets in need.