Lily the Hound Mix is Ready For Her New Home
Meet Lily – a young hound mix available for adoption at the Serenity Animal Hospital in Sterling Heights, Michigan (roughly 15 miles north of Detroit).
Lily Is Laid Back and Quiet
Lily was recently surrendered by her family back to Serenity (where she was originally born). She's a very kind young dog that would benefit from a dedicated owner that's willing to show her what it's like to be part of a family.
Her previous owners weren't able to provide her with a lot of training or attention. She's very reserved and quiet for her age. She would benefit from some training to help build up her confidence. She's looking for someone that can teach her what it's like to have fun & play.
With some love, training, and dedication Lily will make an excellent companion. If you're looking for a sweet young dog Lily is your girl – come meet your new best friend today. She's just waiting for someone to give her that chance.
Lily is a young lady who was originally born at Serenity. She was placed in a home, but did not get the attention she deserved. She is a nice girl, but she needs someone to bond to – someone who will love her & treat her well. Her previous experience did not show her the love she wanted & she has become somewhat shy & quiet. She is a great dog & just needs someone to see that in her. – Serenity Animal Hospital
Adopting From Serenity Animal Hospital
The adoption program at Serenity Animal Hospital is ran by volunteers so meeting the animals is done by appointment only.
Our adoption program is run by volunteers, so you must have an appointment to see our pets. Fill out an application first then send it to us, we will contact you. Our fax number is 586-264-9381 if you're not able to email it
Serenity Animal Hospital does not do out of state adoptions – must be a Michigan resident. The adoption fee for dogs is $300 which covers their spay/neuter, microchip, vaccinations, and 6 months worth of heartworm preventative. The adoption fee for cats is $50 – $ 75 depending on the age of the cat. This covers spay/neuter, microchip, and vaccinations.
Although they're an animal hospital they house quite a few adoptable animals. Check out the rest of their awesome pets on Petfinder. You can find more information on adopting from Serenity by visiting their website.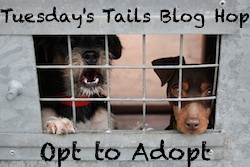 The Tuesdays Tails Blog Hop is hosted by Dogs N Pawz and Talking Dogs. Each week this hop features great shelter pets waiting for their new forever families. Join in by sharing a pet from your local shelter or simply help spread the word about these awesome pets searching for that second chance.