Sweet Older Lab Seeks Forever Home – Adopted
Meet Tori – Adopted! – she's an 8 year old Lab mix that's spayed and up to date on shots. She loves dogs, cats, and children; she's so easy going she'd do well in almost any home. Don't let her age fool you; Tori is in great shape and enjoys physical activity.
She loves going for walks and hanging out with the family. She would like to find a family that will give her the love and attention she deserves in her golden years – she'll return your love ten fold.  If you're looking for a sweet, affectionate companion Tori's your girl. Who doesn't love a sweet older Lab?
Adding a senior dog to your life is one of the best decisions you can make; you're saving a life and gaining and instant best friend. You don't have to worry about teething and potty training. Older dogs tend to focus much easier meaning you can indeed teach an old dog new tricks. They tend to settle into new homes easily and they're grateful for the second chance they've been given.
What you see is what you get – and in Tori's case you'll be giving a sweet, easy going, loyal friend the second chance she deserves. Help her spend her golden years with all the love and attention she deserves.
She's available for adoption through Last Chance Rescue in Howell, MI. Last Chance Rescue has been saving dogs for 17 years; to date they've found homes for over 27,000 animals. Most of their animals come from kill shelters and research facilities.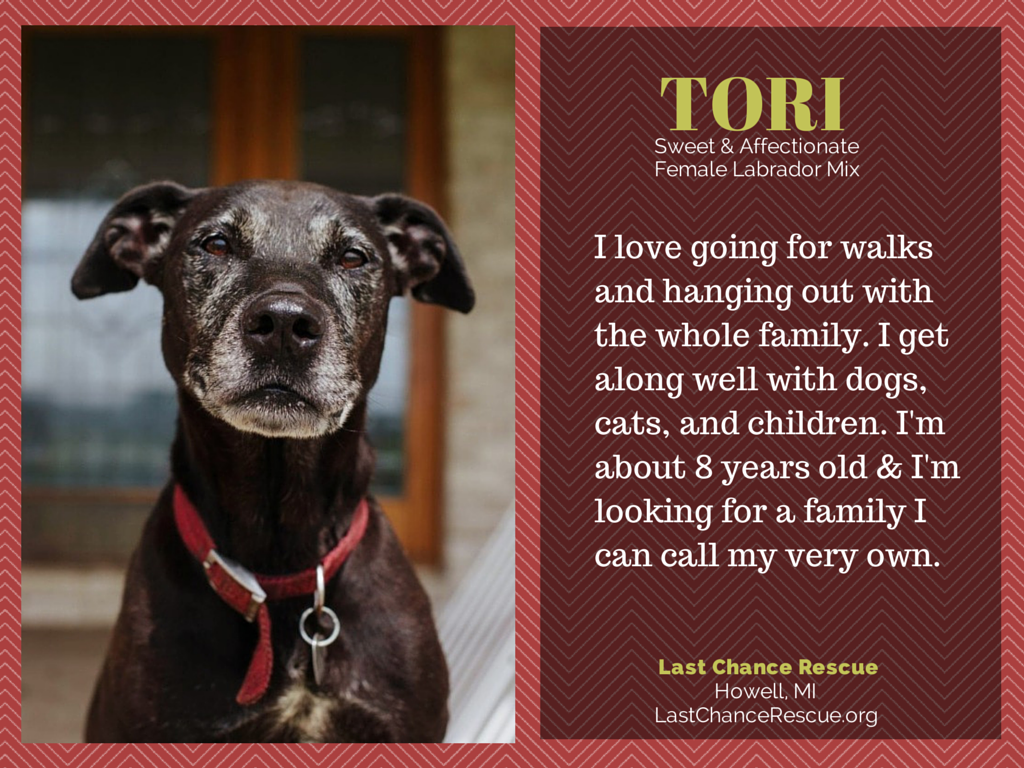 Seniors Still Seeking Homes
In honor of Adopt a Senior Dog Month I wanted to share these sweet Michigan seniors that are still seeking homes.
A dog doesn't care if you're rich or poor, big or small, young or old. He doesn't care if you're not smart, not popular, not a good joke-teller, not the best athlete, nor the best-looking person. To your dog, you are the greatest, the smartest, the nicest human being who was ever born. You are his friend and protector. – Louis Sabin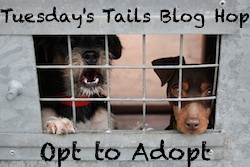 The Tuesday's Tails Blog Hop is hosted by Talking Dogs and Dogs N Pawz. It's the weekly blog hop that features adoptable shelter pets. Find a pet at a local rescue and join in or help share these great pets to find them the loving homes they deserve.