Michigan Shelter Waives Adoption Fees Through End Of The Year
In what they're calling "Home for the Holidays" the Kent County Animal Shelter is hoping to empty all their cages by the end of the year. With support from the Bissell Pet Foundation the shelter has broken it's adoption record and they're waiving all adoption fees through December.
Since the program started on November 3 they've adopted out 118 pets – a big increase from their average of 75 adoptions a month. The shelter ran out of pets at the end of December and has been taking in animals from nearby shelters in neighboring Ionia, Barry, and Montcalm counties.
If you're interested in adopting a pet the staff asks that you bring in new blankets or canned pet food as donation in place of the adoption fee. This Saturday the shelter will be holding a special "Home For the Holidays" adoption event from 8.am to 3 p.m. They'll have free pizza, giveaways, and a special visit from "Santa Pawz."
*UPDATE – As of 12/02/14 (24 hours after this post was published) Betty, Poindexter, and Misty have been adopted!
The Kent County Shelter has many great dogs & cats to choose from. Take a look at their current adoptable pets who are hoping to find their own home for the holidays.
Kent County Animal Shelter
740 Fuller Avenue
Grand Rapids, MI 49503
Phone: (616) 632-7300
Mon-Fri 9:30am-6:30pm
Kent County Animal Shelter
Happy Tails for Two Awesome Seniors
Two lucky seniors got an early holiday gift; they've found a new home for the holidays. Miles was adopted from the Oakland County Animal Shelter from a couple of their volunteers recently. Butch also found his new home when one of the Huron Valley Humane Society volunteer dog walkers fell in love with him.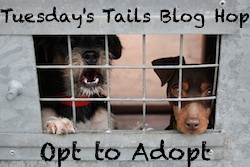 The Tuesday's Tails blog hop is hosted by Talking Dogs and Dogs N Pawz. It's the weekly hop that features shelter pets looking for their new forever homes. Join us and share a lovely pet or help us spread the word by sharing these animals in need. And if you're in Michigan make sure to tell all your friends and neighbors about the "Home For The Holidays" event.