7 Stunning Adoptable Seniors
Sometimes it's just too hard to just pick one. As November comes to an end what better way to close out Adopt a Senior Dog Month than showcasing not one – but seven stunning seniors.
Senior dogs are awesome and I think we all agree. To celebrate the end of Adopt a Senior Dog Month I wanted to show some absolutely stunning Michigan seniors just waiting for their second chance.
If you haven't checked out the My Old Dog community on facebook I highly recommend you give it a look. It was put together by a wonderful pet photographer to showcase beautiful photos of older dogs. It's simply amazing and is truly helping to change the perception of older dogs.
Statistically most older dogs don't make it out of the shelter because people think it's too heartbreaking or costs too much money to care for them. I want to change the perception of these wise old souls and inspire others to open their hearts and homes to a mature dog. – Lori Fusaro

7 Stunning Adoptable Seniors
Blanche is (adopted!) a sweet senior Pit Bull that ended up at the Kimball Animal Hospital when her owners were no longer able to care for her. She's a real playful girl and has great manners. She loves to play with dogs her own size and at the end of the day loves nothing better than a good snuggle. I'd do best in a home without cats or small dogs.
Riley is (already adopted!) a 8 year old female Patterdale Terrier. She loves to keep warm and snuggle under the blankets. She knows a lot of tricks and is a very loyal companion. She needs to be on a leash when outdoors. She's available for adoption through the Cat Tails Kitties Rescue in Macomb, Michigan.
Louise (adopted!) is a shy senior Border Collie. Since leaving the shelter setting and being placed in a foster she's been slowly coming out of her shell. She's starting to figure out how to play with other dogs. She would love nothing more than a devoted couch buddy. Louise would love to find a companion that will never tire of petting her. She's available for adoption through the Great Lakes Border Collie Rescue in Eagle, Michigan.
Brownie is a sweet senior male available for adoption from Home Fur Ever in Detroit, Michigan. He was surrendered when his owner decided he no longer wanted a dog. He's healthy and has some great energy for his age. He's looking for someone who can give him a daily walk and lots of affection.
Butch (adopted!) is a 8 year old Labrador Retriever. He's available for adoption from the Humane Society of Huron Valley in Ann Arbor, Michigan. He absolutely loves going for walks though he's quite happy lounging on the couch as well. He'd do well in a home with older children. He's calm, gentle, and super sweet.
Baxter (adopted!) is a sweet older Terrier mix looking for his new home. He's available for adoption through A New Leash on Life in Troy, Michigan. He loves to play ball and is quite an agile little guy. He's about 8 years old and 30 pounds. He loves to relax on the sofa and get some cuddles. He should go to a home with older children.
Betty (has been adopted!) is a sweet 10 year old Shepherd mix. She's available for adoption at the Humane Society of Livingston County in Howell, Michigan. Betty has good manners and seems to do well with other animals. She's looking for a nice mellow home for the holidays.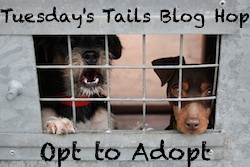 The Tuesday's Tails blog hop is hosted by Talking Dogs and Dogs N Pawz. It's the weekly hop that features shelter pets looking for their new forever homes. Join us and share a lovely pet or help us spread the word by sharing these animals in need.