Meet Trooper the Shepherd Mix – Adopted
Trooper has been patiently waiting for a new home over a year at the shelter. He doesn't do well with dogs or cats so it's been hard to find him a new family without any pets. Please help spread the word about this deserving guy and let's find him that special home he deserves.
Update – 02/07/15 – After more than a year Trooper was finally rescued today!
Trooper Has Been Waiting At the Shelter for Over a Year
Trooper has been waiting for a new home for over a year at the Oakland County Animal Shelter. He's a Shepherd mix that's approximately 3 years old and weighs 50 pounds. He doesn't do well with other dogs or cats so he needs to find a family that can have him as an only dog.
Trooper isn't a big fan of hats either. Because of his energy he would do best in a home with children 14 or older. For more information on Trooper please contact Nola at 248-391-4100. Trooper will need to be placed into a new home through a rescue organization due to his "quirks."
The shelter staff has noted that Trooper has made a lot of progress in the last year:
I find Trooper so much better than he used to be. He used to bark at just about every dog that came his way. I seldom find him barking at dogs anymore. He will let out a few barks at people that he doesn't know. He seems to listen to commands as I walk him. I see so much good in him and he seems to be patient. I sure hope someday soon he'll find a loving home. He has been waiting just about the longest I think of any dog in the shelter. – Vicci K Oakland County Animal Shelter volunteer

I took trooper for a walk the other day…what a great dog! He's super easy to walk, very friendly! Like Vicci mentioned, he didn't bark at any of the dogs he came across and when he did come across a dog, his tail was wagging. – Tricia G. Oakland County Animal Shelter volunteer

The Oakland County Animal Shelter is located in SE Michigan:
1700 Brown Road
Auburn Hills MI 48326
248-391-4100
Let's find Trooper the special family he's been waiting for.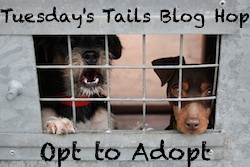 The Tuesday's Tails blog hop is hosted by Dogs N Pawz & Talking Dogs. It's the weekly hop that features shelter pets looking for their forever homes. Join in or share these lovely pets – let's find these animals the loving homes they deserve.