Dogs Prefer Petting to Vocal Praise
Get over here and pet me! That might be exactly what Fido's thinking when you keep oohing and aahing over him from afar.
It's no surprise that dogs like to be pet. What is surprising is that they seem to show no preference towards a person giving them vocal praise and a person who ignores them.
Researchers at the University of Florida tested whether dogs would prefer to be petted or given vocal praise, both from their owners and strangers. Turns out dogs love being pet, no matter whose doing the petting.
Shut up and pet me!
The first part of the trial included 42 shelter and pet dogs as they interacted one at a time with people in a laboratory room. One person would pet the dog, one would give verbal praise, and one would have no interaction at all with the dog. These interactions were recorded over eight three-minute intervals.
The second phase of the trial included 72 shelter dogs and pet dogs that were individually placed in a room with just one person; a stranger for the shelter dogs and the owner for the pet dogs. Again they were tested in eight three-minute intervals with the individual alternating between petting, praising, and no interaction at all.
The researchers found that the dogs showed more interest in the person petting them regardless of whether they were familiar or not. What they did find surprising was that the dogs showed no preference over the person giving verbal and the person having no interaction at all with the dog. Even when no alternative was available the dogs showed no preference towards the person giving verbal praise.
Why Do Dogs Love Petting So Much?
A previous study found that there's a cardiovascular effect on dogs when they're being pet. We've known that dogs have a soothing effect on humans for some time. Petting a dog has been found to decrease stress and lower blood pressure. Researchers are now looking into the physiological effects petting has on the dog. There's been indicators that it has soothing effects on them as well.
There's One Thing Dogs Love More Than Being Pet
The same researchers who concluded that dogs prefer petting over verbal praise have worked with dogs before. Previous research has indicated that both petting and food have reinforcing effects on dog behavior, they both support social behavior towards humans. In a previous study they found that dogs prefer food to petting.
Dogs were tested in five minute intervals. In session one the dogs were given both food and petting in continuously contingent on the dog staying near the person providing it. In the next three sessions they thinned out the food supply until it was finally depleted. The fifth session reverted back to a full food supply.
The dogs were tested in a familiar and unfamiliar environment, and the person alternated between the dogs owner and a stranger. In general the dogs showed a preference to the food over petting. When the food supply was being depleted the dogs were spending less time with the person providing it. As for the petting there were differences depending on the dogs familiarity with the person.
Dogs Prefer Petting More Than Previously Thought
"You're such a good dog" might not be what your dog wants to hear, it seems to have little effect. She'd really appreciate a nice petting though.
It's not going to keep me from talking to my dog, I spend a good amount of time talking to my dog. She seems like she enjoys it, maybe even finds some value in my words. Some people might think it's crazy but I think a lot of dog owners would agree; we spend a good amount of time talking to them.
I'll just make sure I pet her more; or better yet give her some nice homemade treats now and then.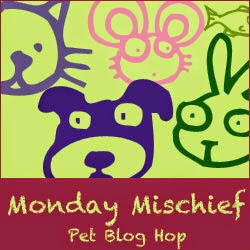 The Monday Mischief Pet Blog Hop is hosted by Alfie's Blog, My Brown Newfies, and Snoopy's Dog Blog.