Meet Max the Adoptable Doberman & Recent Happy Tails – Adopted
I've always admired the loyalty and beauty of Dobermans. Max is such a great guy; he's gentle, sweet, and eager to please. When his owners fell on some hard times they were unable to care for him so he ended up at the Home Fur Ever rescue in Detroit.
Update – Max has been adopted 🙂
This Adoptable Doberman Is Beyond Handsome
When Max's previous owners fell on some hard times they had to make a tough call. Being unable to properly care for Max they surrendered him to the Home Fur Ever canine rescue in Detroit. Although he's in great hands now what he really wants is a home of his own.
Max is already housetrained and knows some basic commands. He's a bit shy when meeting new people but doesn't take very long to warm up. He's very gentle with other dogs and cats in his foster home. Despite his big size he's very polite and well mannered around children.
He's only 2 years old so he's still quite energetic. His foster family says he is "full of clumsy energy and love." He walks well on a leash and loves exploring new surroundings. He's gaining confidence in his foster home and would thrive with a family that is willing to give him lots of physical and mental exercise. He's very willing to please and enjoys learning new commands.
If you're looking for a great family dog Max is your guy; you'll be gaining a loyal companion for life. He's available for adoption at the Home Fur Ever rescue in Detroit.
From his foster family:
Max is a handsome young Doberman with natural ears, a docked tail, and the most soulful eyes your own will ever see. He was surrendered to Home FurEver after his owners fell on hard times and could no longer care for him. He is a young boy, full of clumsy energy and love. He walks well on a leash, and is eager to explore the world around him.

He is a little shy at first, but he has a lot of love to give; and is gaining confidence in his foster home. Despite his size, he is very gentle and is good with kids, cats, and other dogs. He knows basic commands, and is very motivated to please his people. He is very excited to meet his forever family and begin the next chapter of his life. Birth date 11/20/12
Recent Happy Tails
Do you love happy endings? These deserving dogs have been given a second chance. They've all made their ways into the lives (and hearts) of their new forever families.
There's been a lot of adoptions recently, and I'm very happy to say many of them have been some sweet seniors.  And of course who can forget Trooper who spent 3 long years waiting for his second chance. Here's their before photos: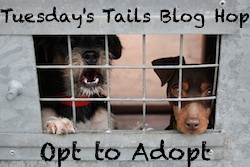 The Tuesdays Tails blog hop is hosted by Dogs N Pawz and Talking Dogs. Join in and share a shelter pet or help out by sharing some of these great animals in need of a second chance. One share can make a difference; we can make more happy tails possible.