Sweet Stewie Has Been Waiting More Than a Year – Adopted
Stewie is a wonderful young dog that absolutely adores attention from people of all ages. He's playful, well behaved, and affectionate. Unfortunately because he gets stressed out at adoption events he's not getting much attention. He's been with Home Fur Ever for more than a year and hasn't received one single application. Let's share this great guy & find him his forever home.

05/19 – Stewie currently has an application pending for his adoption 🙂
06/29 – Stewie has been adopted!
Stewie Has Been Waiting More Than a Year
Stewie has been with Home Fur Ever rescue in Detroit for over a year and he hasn't received one single application. He's a beautiful young guy that's playful and affectionate. Stewie is wonderful with children and loves meeting new people but unfortunately he doesn't show well at adoption events because they stress him out.
I don't blame him for not liking adoption events – some of them are pretty loud and chaotic. But unfortunately because of this he's not receiving the attention he deserves. Stewie is a wonderful sweet guy; he just needs some extra networking.
Home Fur Ever believes Stewie is a 3 year old Dutch Shepherd/Akita mix. He was found by one of Home Fur Ever's volunteers last year roaming the streets of Detroit. He tested positive for heartworm and finished his treatment last year – now he's looking for his forever home.
Stewie is Affectionate, Playful, and Sweet
Stewie is a very affectionate guy that loves meeting people of all ages. He'll often come right up to strangers and sit right on their feet waiting for attention. He loves to play fetch, go for walks, and receive belly rubs. But his favorite activity in the world is snuggling.
He has quite a bit of playful energy but calms right down when it's time to cuddle. Stewie gets a little excited when meeting new dogs so he'll need a handler that will continue his training so he can gain confidence and learn to calmly interact with new dogs. He loves playing with dogs he's familiar with but he hasn't been tested around cats.
He's perfectly content going into his crate and will quickly settle onto his comfy bed. Stewie will make an excellent companion for one lucky family. To set up a meeting with this sweet Stewie contact Home Fur Ever in Detroit.
Stewie is a big fan of people and kids. He doesn't discrimate against strangers either. He will walk right up to anyone and sit right on their feet! He is such a snuggle bug. He is still waiting for his furever family to notice him, until then, he is loving life in his foster home. Unfortunately, Stewie hates adoption events, so his true personality doesn't always shine through while he is there. Don't let that deter you, he is an awesome loving dog. – Home Fur Ever
About Home Fur Ever
Home Fur Ever is a non profit, no kill, foster based canine rescue in Detroit Michigan. The group was officially started in 2003 and has since adopted out more than 4,500 dogs and puppies. At any given time they're fostering for 90-130 dogs making them one of the largest rescue organizations in the metro Detroit area. Their mission is simple; "give every dog a chance to find its FurEver home."
To help find the best match for their dogs Home Fur Ever encourages the foster to adopt program. They like to give you a week or two with your new dog at home to make sure it's a proper fit; and then you're able to complete the process at any of their adoption events.
Foster to adopt gives you the chance to get to know your dog before you make the commitment. Not all dogs are suitable for all lifestyles – having the ability to foster your dog before completing the adoption gives you a chance to make sure it's the perfect match.
For more information check out their homepage and follow them on facebook to see more of their adoptable dogs & get the latest updates on their sweet adoption stories.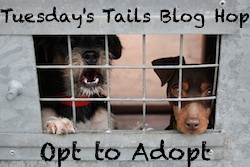 The Tuesday's Tails blog hop is hosted by Talking Dogs and Dogs N Pawz. Each week we post and share shelter pets to help them find their forever homes. Join in or share these great animals; let's get them that second chance they deserve.