Sweet Joy – Adoptable Senior Shepherd Mix in Detroit
There's something special about adoptable shy dogs, and I find it especially sad when they're abandoned seniors. Let's help find this older gal the loving & forever home she deserves.
Joy is a Sweet Adoptable Senior Shepherd Mix
Joy is a sweet 8 year old Lab/Shepherd mix available for adoption through Home Fur Ever in Detroit. She's shy around new people at first but warms up once she gets to know you.
Joy does well with other dogs, cats, and children. She loves going for walks and rides. She's a nice laid back dog that would make a wonderful addition to any family.
From Home Fur Ever:

Joy is a little shy at first with new people but will warm up as she gets to know and trust you. She is currently fostered with another dog and she's doing very well. Joy loves to go on walks and is a very well behaved obedient dog. She enjoys going on car rides. She has a laid back temperament but is also very alert and aware of her surroundings. She likes to be near people but is also independent and will happily go and lay on her bed and hang out by herself. Joy has done well with both kids and cats. Birth date 12/23/06
About Home Fur Ever
Home Fur Ever is one of my favorite rescue organizations. They do a great job of matching their dogs with the right families by encouraging their foster to adopt program. If you're in the metro Detroit area come check them out at one of their upcoming adoption events:
Saturday, July 11  –  Roseville Petco Adoption Event 12-4 pm
Friday, July 17  –  Farmington Founders Festival
Saturday, July 18  –  Farmington Founders Festival
Sunday, July 19  –  Farmington Founders Festival
Saturday, July 25  –   Roseville Petco Adoption Event 12-4pm
Saturday, August 1  –  Troy Petco Adoption Event 12:00pm
Check out their calendar to keep up to date with their event schedule.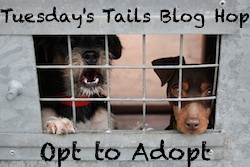 The Tuesdays Tails Blog Hop is hosted by Dogs N Pawz and Talking Dogs. Each week this hop features great shelter pets waiting for their new forever families. Join in by sharing a pet from your local shelter, or help out by spreading the word about these awesome pets in need.