Chyna – Beautiful Female Terrier Mix
Chyna has been at the Almost Home Animal Rescue League for 3 and a half years – such a long time  – let's try and find her a great forever family so she can finally have a place to call home.
Chyna Has Been Waiting Over 3 Years For Her Second Chance
Chyna is approximately 6 years old and 65 pounds. She was brought into the rescue after being found tied to a fence over 3 years ago. She came in extremely fearful but has made great strides in becoming a more confident and trusting dog. She's gone through obedience and socialization classes which have helped her overcome her fear and anxiety. She's doing so well now that the rescue decided it's time for her to find her forever family.
She's available for adoption from the Almost Home Animal Rescue League:
25503 Clara Lane
Southfield MI 48034
(248) 200-2695
From the Almost Home staff:
Hi there! My name is Chyna and everyone says I am a beautiful girl with my one quirky ear that can't decide whether to stand or flop over! When I came to Almost Home 3 1/2 years ago an Animal Control officer found me when I was tied to a fence by boys who were poking and hitting me repeatedly with a stick. I was terrified, and as a result I have been working very hard in our Training and Socialization program to overcome fear and anxiety with strangers (particularly with males). And, guess what- the program is working because the trainers feel I am ready to meet my new family and go home to start my 'happily ever after'! I am also learning to be more balanced around my fellow furry friends, so that I can live with other dogs in harmony.

So, here is a little more about me: I'm a big sweetheart! I love to give kisses and I get very, very excited when people talk to me! I really enjoy going on walks, and I have learned to be excellent on a leash. If you invite me to sit with you, I love nothing more than cuddling- and, of course, the kisses. I am very polite and won't jump on you, and I know basic commands- like "sit", "stay", and "leave it". Plus, I am potty trained. I am friendly with women, men and would be best with older children.

My goal is to please you, so if I sound like a good match for you then please come and meet me at one of our training classes, where we can walk together and you can see how good I am! (Plus, you may learn some new skills as a dog handler!) Oh, and one more thing: my adoption includes an in-home first day introduction and training session by my trainer- this also applies to anyone who may want to foster me! I just need a home and a yard to live out the rest of my life with somebody to love, who loves me back. If you would like to give me my second chance at a happy life, please fill out an application and come meet me!
Chyna is a shelter staff favorite because she's such a sweetheart and has excellent manners. She absolutely loves going for walks and getting belly rubs. If you're interested in Chyna you can fill out an application from Almost Home Animal Rescue League.
Shelter Dogs Smiling
In a related note Sue from Talking Dogs left me such a great comment the other day on my post 12 Shelter Dogs Smiling After Being Adopted; "Oh, how I love happy endings! Thank you 🙂 On Tuesday you should add this post to the Tuesdays Tails bloghop. We could all use some smiles like this!"
I'm trying to figure out a way to feature an adoptable dog and post some great shelter dog smiles at the same time. Maybe I should just make the shelter dogs smiling a regular feature; I'm definitely open to ideas. If you have any suggestions please let me know in the comments, I'd love your feedback. For the meantime here's a few more great shots of shelter dogs smiling after being adopted:
Love seeing these dogs smile; I think they know when they've found great people – their smiles tell it all. Would you like to see more photos of dogs smiling after being adopted? I'd love to post more if there's interest. Please let me know in the comments if you like the idea.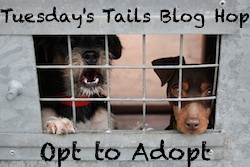 The Tuesday Tails Blog Hop is hosted by Talking Dogs and Dogs N Pawz. This is the blog hop that features adoptable shelter pets. Help spread the word about these great animals in need and let's work together to find these animals a loving, forever home.