Adopt Flash the Friendly Young Shepherd Mix – Adopted
Update 08/14/15 – Flash has been adopted 🙂
Flash the friendly young Shepherd mix is seeking his forever home in Detroit. He's under a year old and good with other dogs and children – but because of his size he might knock the little ones down. He's playful and energetic but also loves a chance to settle down and cuddle.
He sleeps in his crate at night, walks well on a leash, and adores everyone he meets. He loves to play with tennis balls and chew toys. Lounging around and catching some rays on the deck is one of his favorite activities. He's still working on some of his training but he's very food motivated, clever, and willing to please.
Above all else he just loves being around his people. If you're looking for a nice, easy going best friend Flash is your guy. If you're in the metro Detroit area and would like to adopt Flash come out to one of Home Fur Ever's adoption events. They're held every Saturday from 12-4 and rotate between the Troy & Roseville Petco stores.
Home Fur Ever encourages all potential adopters to do their foster to adopt program to ensure it's a good match. This will give you and your dog a chance to settle in at home for a few weeks to make sure it's a perfect fit.
About Flash From Home Fur Ever:
He knows sit and down. He is very food motivated and very smart. He can jump baby gates and like any other puppy his age puts everything in his mouth. He will be a great jogging partner. I think he would do great at agility. We are working on down and off. He loves kids but because he is so big he may knock little ones down. He is all legs and paws. He is going to be a bigger dog. He loves his kibble and treats. He is just a really lovable goofball.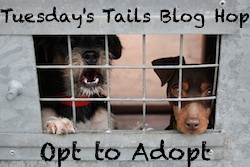 The Tuesdays Tails Blog Hop is hosted by Talking Dogs and Dogs N Pawz. Each week we feature adoptable shelter pets. You can help out by joining in or sharing these awesome pets. We might not be able to change the world; but we can at least make it better for some of these pets in need.