Do Dogs Love Waiting In Cars?
Perhaps I missed a memo that went out to all of us dog owners regarding their love of waiting in cars. I see so many dogs waiting in cars as their owners go grocery shopping, to the mall, or out to eat. Why must they bring their dogs for long outings when the dog can't come in? Do dogs love waiting in cars for long periods of time?
Simple Errands – I Don't See a Problem
I bring Laika along for errands – a lot of us dog owners do. When I've got to make a short trip to return a movie (yeah old school, right?) or to grab some take out dinner. I don't see the harm in that. She's not being left along in the car for more than 5 minutes and she doesn't seem to mind.
Now in the summer I usually leave her behind – if it's a hot day I'm more comfortable leaving her at home. It's not safe to leave dogs in hot cars as we already know. I could roll down the window but then how much? What if someone decides to stick their hand in and try to pet her – will she be nice or will she turn protective? I don't know, and I don't really want to find out.
Longer Trips – Why Bring Them?
I'd say at least half the time when I go to the grocery store or to a eat in restaurant I see a dog waiting in the car. If it's the grocery store maybe the owners are much faster than I am – perhaps they're only being left alone for 5 minutes. I could be much faster in the grocery store but those check your self out machines and I don't always get along.
Many times the dogs are barking and obviously on alert status.
What I really don't understand is bringing your dog along to a restaurant. These aren't take out places I'm talking about – they're sit down and have a full meal places. At restaurants I often see the same dog waiting when I come in and when I leave, and I don't eat super fast.
Is this fun for the dog? Is there some benefit I'm not seeing?
I can only speak for my dog of course but I'm pretty sure she's much more comfortable waiting at home with free range of the house than waiting in a car. When I come home from a long trip she's usually laying on the couch looking nice and cozy.
When she's alone in the car she's not nearly as comfortable. Generally she's up and about – watching the surroundings and eagerly anticipating my return.
If I were to leave her in the car as I ate dinner I'd feel guilty – looking back my dog whose waiting for me. I wouldn't be able to enjoy my meal knowing that she's out there waiting.
When Do You Leave Them at Home?
Is there a good reason to bring your dog along on trips when they'll be left in the car for long periods of time? I'm assuming there's some benefit since I see it done so often. Or is it because the owners see how excited the dog is to 'go for a ride' they just assume the whole trip will be fun for Fido?
Do you bring your dog along for errands or longer trips? At what point do you decide to leave them at home?
I found an amazing collection from UK based photographer Martin Usborne of dogs waiting in cars. Check it out for some great, though provoking images. And there was another great blog 'dogsincarsatmywork' with photos taken by a grocery store employee. I can't help but look at these and wonder if there's something I'm missing.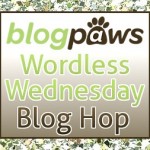 The Wordless Wednesday Blog Hop is hosted by Blog Paws. Be sure to check out all the great links below.