12 Shelter Dogs Smiling After Being Adopted
I don't know if there's anything quite as heartwarming as seeing a shelter dog find a new home. For me one of the best feelings in the world is seeing these deserving dogs find their loving, forever homes.
Many of these dogs had been at the shelter for months (sometimes years) patiently waiting for the right person to come along. As soon as these dogs walk out of the exit they know they're free – you can see it on their faces. Shelter dogs smiling makes everyone happy; especially when they know they've finally gotten their second chance.
Here's some great photos of dogs being adopted – I think their smiles tell the whole story.
12 Shelter Dogs Smiling After Being Adopted
And to top it all off here's a heartwarming video about a special happy, wiggly puppy adopted from the Michigan Humane Society.
Everyone loves a happy ending. Most shelter dogs are living in a crowded and noisy kennel – they seem to show gratitude for being given a nice, cozy place to stay for a change. It's no wonder they're smiling. These dogs all got a second chance at life and for that they seem truly grateful.
And even if you can't adopt there are still many ways you can help animal shelters, including ways to help without leaving home. I know we can't do everything, but each of us can do a little something to make a difference for an animal in need.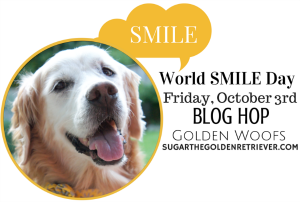 The World Smile Day Blog Hop is hosted by Golden Woofs, Dory's Backyard, and Oz The Terrier. Join in with a smile post or check out all the great smiling posts below. Today is World Smile Day – reach out and make someone smile.