17 Super Cute Dogs Smiling After Being Adopted
Is there anything sweeter than seeing shelter dogs being adopted? Those awesome smiles they give tell it all; they've finally been given their second chance. Thank you to all the shelter workers and volunteers that work so hard to make these happy tales possible.
If you're looking for a quick pick me up check out these awesome adoption smiles (and the ones from last year). It's hard not to feel all warm & fuzzy when you see such happy faces. One single smile can tell such a story.
The smallest act of kindness is worth more than the grandest intention.  -Oscar Wilde

Shelter Dogs Smiling After Being Adopted
These first 4 freedom photos are some of the wonderful dogs that I posted here on the blog over the past few months. It's always so great seeing these lovely dogs getting their second chance, and from the looks of thing their new families are just as excited.
Meet Your Best Friend at the Zoo Adoption Smiles
The photos below are all from the Meet Your Best Friend at the Detroit Zoo event that took place over the weekend. In all over 700 animals found their forever homes this weekend — the semi annual event is hosted by the Michigan Humane Society.
Thanks again to all the wonderful staff & volunteers that make these adoptions possible. Without your tireless dedication events like this wouldn't be possible, and 719 animals would still be looking for their second chance.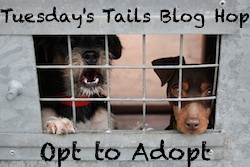 The Tuesdays Tails Blog Hop is hosted by Talking Dogs and Dogs N Pawz. Each Tuesday this hop features amazing shelter animals in need of a forever home. Don't forget to visit the other posts and share their stories to help spread the word about these deserving pets seeking a family to call their own.