Prison Dog Programs – How One Little Idea Makes a Big Difference
There's no denying that the canine-human bond is quite special, and sometimes it has the ability to help serve the community as a whole.
Working In Corrections Or Animal Rescue Is Stressful
When I think of those that work in the corrections field or animal rescue one word always comes to mind – stress. These are some special people who work with inmates and shelter pets – people that make a difference without being bogged down by the stressful and depressing things they see and hear every single day.
And when people from these two seemingly unrelated fields get together and create a program that helps inmates & shelter pets it's nothing short of amazing.
Prison Dog Programs Benefit The Whole Community
Now if you're like me and watch all those documentaries (like Castaways or Dogs On The Inside on Netflix) about prison dog programs you probably don't need an explanation of how beneficial they are – it's apparent immediately. And it's not just anecdotal according to studies on prison dog programs from 2007 & 2009 that found:
Statistically significant improvements have been found in the areas of social skills and social sensitivity, social competences with problem solving, and communication abilities. Statistically significant decreases were found in feelings of isolation and loneliness when compared to a control group. – Portland State University
Prison dog programs have also been shown to lower recidivism rates. For one prison in particular the recidivism rate was 11% for those that participated in prison dog programs & 68% for those that didn't.
These intervention programs benefit more than just the the handler and the dog, they help the community. The dogs are learning good manners, gaining confidence, becoming more adoptable and in some programs being specially trained to be future leader dogs. The handlers gain patience, learn a new set of skills, and gain a great level of empathy and compassion.
The human-animal bond is quite powerful, and programs like these are further proof how beneficial that bond can be.
Pairing At Risk Youth With Shelter Dogs = Awesome
When it was time for blog the change (#BTC4A) I was thrilled to shine the spotlight on one of my favorite local programs called Teacher's Pet. They're an intervention program that pairs at risk youth with less adoptable shelter dogs for a 10 week training program.
Teacher's Pet is a 501(c)3 non-profit organization that pairs hard to adopt rescue dogs with at-risk youth for a 10-week training session. Student trainers work with the dogs on basic obedience commands in order to make them more adoptable so we can place them into permanent, loving homes while the trainers themselves mature in a kind and compassionate manner. – Teacher's Pet
And to think the program started by a couple of friends 10 years ago should be truly inspiring for all of us who are looking to make a change. They've made a huge impact not just on the lives of shelter dogs, but on our whole community, and it all started with one idea.
Teacher's Pet: Dogs & Kids Learning Together
Since it's founding in 2005 Teacher's Pet has been pairing at risk youth in southeast Michigan with hard to adopt shelter dogs for a 10 week training program. The dogs are all trained with positive reinforcement methods that help them gain confidence and learn to trust people again. And the young handlers are able to experience compassion, gain patience, and learn a new set of skills.
Sometimes, troubled kids have a difficult time relating to adults. Dogs seem to have a way of crossing that boundary. They're non-judgmental, loving, and when you're kind to a dog, that dog is kind to you." – Teacher's Pet founder Amy Johnson told C & G News
These intervention programs are powerful, and the benefits stretch out through the community. The youth are empowered by being given a chance to see a positive change in the world, and the dogs get a second chance to find their forever homes. It's a win win for both sides, and an amazing way to make a difference in so many lives.
10 years ago Teacher's Pet was just an idea, and luckily for us in the metro Detroit area founder Amy Johnson took action. We can each make a difference in the lives of others, and it all starts with one little idea – what happens next is up to you.
One is not born into the world to do everything but to do something. – Henry David Thoreau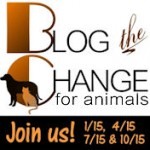 Blog the change is a quarterly event where we take a day to spotlight those that are helping make a difference in animal welfare. Join in with hosts Cindy Lu's Muse & Talking Dogs and share your favorite animal welfare worker or organization. Together we can blog the change.