10 Simple Tips for Cleaning Up Dog Hair
If you have a dog you know one thing – dog hair gets everywhere. And if you have a few Huskies well…I send my deepest sympathies. How many times have you found stray pet hairs in your cupboards, on top of the TV and on the drapes? I mean come on..it gets everywhere.
But there are some simple hacks that make cleaning up all that pet hair easier. Here's my 10 favorite tips for picking up dog hair.
Keep Furniture Fur Free By Using Blankets/Covers
Before we dive into the tips for cleaning up dog hair I want to make one thing clear – blankets & covers can be your best friend. When it comes to keeping pet hair off of your furniture it doesn't get any easier. I have a few blankets that I use on the couch where my dog Laika sleeps. Throwing those in the wash once a week is so much easier than trying to keep a bare sofa clean. There's a big variety of custom made couch covers to choose from, and if you're crafty you can make some of your own out of your favorite material.
10 Simple Tips for Cleaning Up Dog Hair

I don't own a special vacuum made for pets, nor do I have a wet vac. When it comes to cleaning up dog hair I use a variety of household items, depending on the surface. From dryer sheets to using a window squeegee, these are my favorite tips and hacks for cleaning up dog hair.
1. Dryer Sheets Are Great at Picking Up Pet Hair
Does your dogs hair get everywhere? Do you find yourself having to pick off fur from your clothes before leaving the house? Keep some dryer sheets on hand. I don't know what I'd do without dyer sheets – they work wonders for picking up dog hair on virtually anything.
I use them on furniture, floor corners, and around all those pesky baseboards. When dealing with fur covered clothing I've found that using a slightly dampened dryer sheet will work wonders.
2. Use a Roll of Tape or Lint Roller to Pick Up Loose Pet Hairs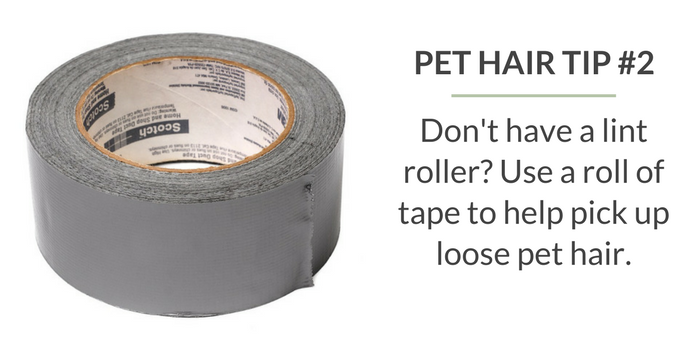 I've got a roll of packing tape sitting in my kitchen drawer that's used exclusively for snagging dog hair from clothes and furniture. Lint rollers also work – though I always found myself running out really quickly when using them. It's also quite common for me to wrap packing tape around my hand and go over the furniture a few times a week. It's not pretty but it works damn well.
3. Dampen & Lightly Sweep Your Carpet Before You Vacuum
Do you get dog a ton of dog hair embedded in your carpet, or is it just me? If you want to pick up a lot of pet hair off your floor dampen your carpet and use a rubber broom to roll all the hair into a nice little ball. If you want to get rid of some pet odors while you're at it use a little baking soda on your carpet & let it sit in for 10 minutes before vacuuming.
Be careful to not get your carpet too wet since most carpets don't dry quickly. Wet carpet is the perfect environment for mold & mildew.
4. Use a Dampened Mop for Hardwood or Vinyl Floors
If you've got hardwood floors you can use a dampened mop to pick up the majority of fur. I don't own a Swiffer, but my animal owning friends with wood floors swear by them.
A damp mop acts like a magnet when it comes to picking up pet hair. If you have hardwood floors be sure to use a wood cleaning product (many will need to be diluted per the label), and avoid leaving any standing pools of water on your floor.
5. Use a Damp Sponge or Rubber Gloves on Upholstered Furniture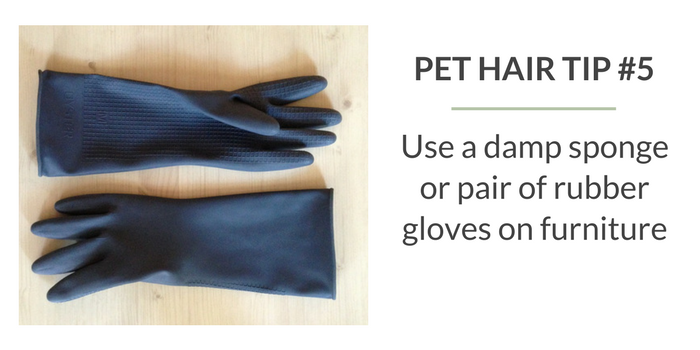 Looking for a simple way to get pet hair off your furniture? Use a damp sponge or rubber gloves (dryer sheets work too). Dog hair clings to rubber gloves or a damp sponge like magic.
6. Alternate Vacuum Directions to Pick Up More Pet Hair
When vacuuming don't forget to go over the carpet a few times in alternating directions to pick up more pet hair & get some of those embedded ones loose. Make sure to empty your vacuum often and don't forget to check the filters – a clogged filter keeps your vacuum from running efficiently.
7. Use a Window Squeegee on Carpet to Pick Up Pet Hair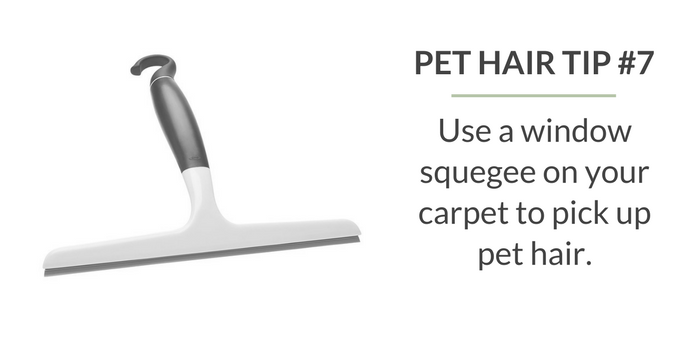 If you have a dog and windows in your home you probably already own a squeegee (this is the one I use, it's also awesome at removing all those doggie nose prints on windows). These things work so well at loosening up pet hair from carpet. Just rub it along the carpet and after a few swipes you'll have a nice big pile of dog hair.
8. Use a Rubber Broom to Pick Up Hair in the Bathroom/Kitchen
When dealing with tile, wood or linoleum floors there's one tool I love – a nice rubber broom. If you get a lot of dog hair on your kitchen & bathroom floors you can switch to a rubber broom to make up picking up those loose hairs.
9. Keep Your Vacuum in Good Shape With Some Regular Maintenance
When it comes to picking up dog hair your vacuum will most likely be doing most of the work, so it's important to keep it in good shape. You can help keep it functioning well by remembering to do some regular maintenance such as cleaning the filter, brush roller & checking the belt.
10. A Humidifier Can Help Keep Hair From Sticking to Surfaces
Having a humidifier is really nice in the winter for those of us in cold climates, but they can also help with pet hair. They not only help keep your skin hydrated, they can also keep loose fur from clinging to surfaces.
A Few Preventative Measures Can Help Reduce Shedding

If you have a dog hair is going to get everywhere, but there are a few measures you can take to reduce their shedding.
One easy way to reduce shedding is to brush your dog everyday. It doesn't have to be a super long grooming session, but a few minutes will help get rid of a lot of loose fur. The FURminator de-shedding tool works amazingly for this; it's by far the best piece of grooming equipment I own. A groomer should be able to suggest the proper kind of brush for your dog's fur type.
Regular baths also help to keep the shedding down a bit. I haven't found any magical shampoo that seems to work any better than others – it's just the physical act of lathering and rinsing that removes a lot of hair. Feeding a high quality diet can also decrease excessive shedding.
What Are Your Favorite Methods For Cleaning Up Dog Hair?
Do you have any additional tips for cleaning up dog hair? How do you keep pet hair under control? Do you use lint rollers, tape, or a vacuum that's made for dealing with pet hair? I'd love to know any other tricks I can add to my list. Being able to clean more efficiently is something I'm sure any of us would welcome.
This post contains affiliate links, if you make a purchase I'll earn a small commission.