Top Ten Guarding Breeds
Top Ten Guarding Breeds
Choosing the right guard dog
If you're looking for a guard dog this list will help break down the basics between the top ten breeds.  Guarding breeds can be great companions but they require a lot of socialization to keep them from becoming too protective. You must do a lot of research before deciding on the right guard dog for your family. Some of them make great family pets while others are meant for real guard duty such as livestock protection.  Make sure you are willing to commit to any of these high drive dogs before making a decision.
These Dogs Come with Natural Protective Instincts
While everyone loves the idea of having a dog protect their home not everyone realizes how much of a liability they can be if not trained properly. All puppies need to be well socialized to prevent behavioral problems later on, especially guarding breeds. These dogs will be protective of their family and home regardless of training. Be sure to get them accustomed to many people, animals, sights, and sounds when they're young to prevent unwanted aggression later on.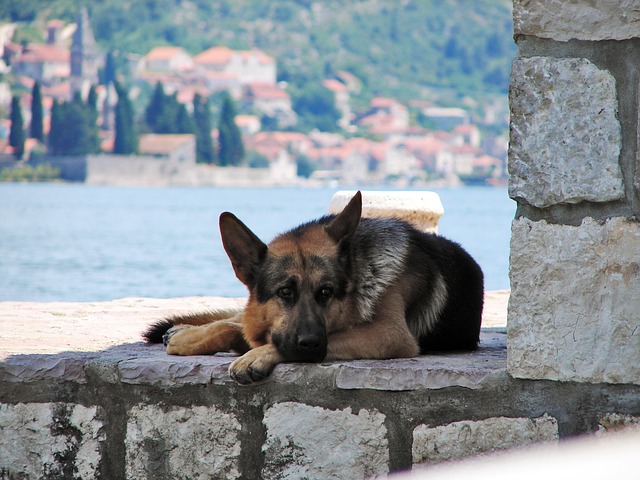 German Shepherd
Their intelligence, strength and obedience have made German Shepherds one of the most versatile working dogs around.  Originally bred to herd livestock they're now used by police, military, and search and rescue teams.  Shepherds are considered extremely trainable, they thrive when they're given a job to do.  They have high energy requirements to keep them from becoming destructive, this is no couch potato.  They're extremely loyal – if not properly socialized they will become overprotective of their family.  Generally they have a calm demeanor when inside the home environment but they react quickly when they sense a threat.  These dogs are bold and courageous, making them excellent guard dogs.
Rottweiler
Originally bred to protect cattle these dogs are known to be extremely protective of their family.  These dogs are loyal and smart.  They're known for their ferocity when it comes to protecting their home.  With the proper training and socialization they can make a loyal family pet.  It is recommended that you don't encourage these dogs to guard, they're already naturally alert and will be on the lookout for intruders.  They need daily exercise and socialization classes are highly recommended for this breed.  With proper management you can have a reliable guard dog that will bark at anyone coming to your home but settle down as soon as they realize the person is harmless.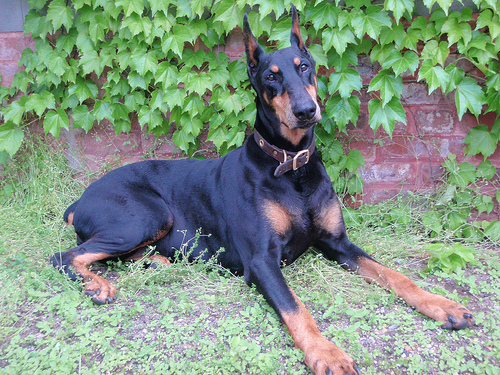 Doberman Pinscher 
Doberman's are another naturally protective breed, they're often surveying their territory to look for possible threats.  Originally bred to be aggressive the modernized Doberman has had been toned down over the years and they are now considered a good family pet.  As with any other guard breed proper socialization is important.  Dobermans who haven't had proper training might show aggression towards strangers.  Considered easy to train and intelligent they can make great pets.  Known to be energetic, fearless and obedient they can protect a home quite naturally.  These dogs are known for being stable and friendly, unless you threaten their family.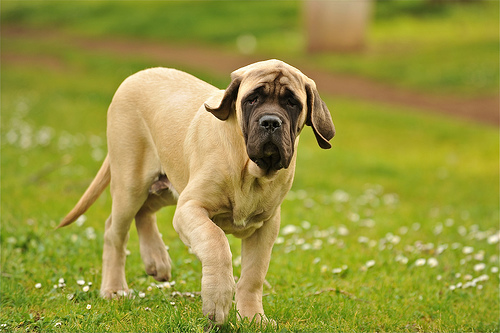 Mastiff

There are different breeds of Mastiff, I'm lumping them into one category.  Mastiffs are a giant breed of dog all descended from the same stock and their size alone makes them excellent guard dogs.  They're a social breed of dog, don't leave your Mastiff tied up in the backyard by himself, he needs lots of socialization to be stable and happy.  They can be territorial, they will protect their home and family from other people or dogs.  Obedience training is a must with this breed, if you're not in control of a dog that can easily weight over 200 lbs you're asking for trouble.  Mastiffs make good family pets with proper handling.  Generally their bark is much bigger than their bite.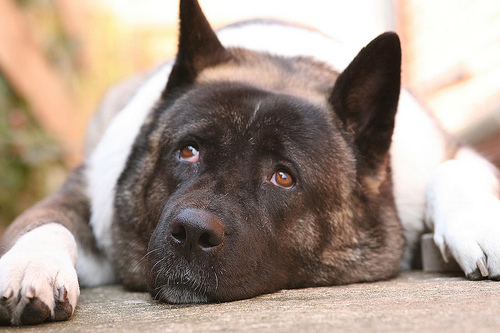 Akita

An ancient Japanese breed known as the 'Bear Dog' the Akita is a natural protector used to hunt large game, like bears.  The Akita is not a breed for the inexperienced dog owner.  They are territorial and fearless.  They tend to be dog aggressive so socialization is extremely important.  They form a great bond with their family and remain suspicious of strangers making them a natural choice for guarding.  It is not recommended to keep these dogs as family pets, they can bite when teased so it would always be risky to have them around children.  They also have a tendency to be food aggressive so you might want yo feed separately if you do have other pets in the home.  If you're willing to take on a strong willed breed like the Akita be prepared to spend a lot of time practicing obedience training.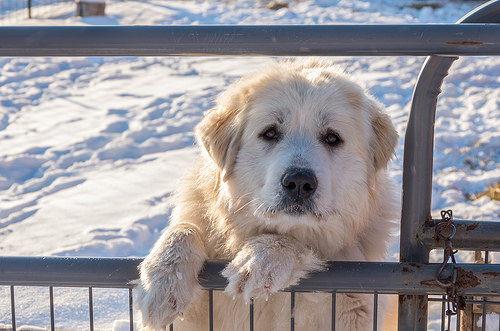 Great Pyrenees  
The Great Pyrenees has been used by shepherds for hundreds of years as a livestock guardian.  In his home or territory the Pyrenees is confident and gentle.  When the breed feels that his flock or home is in danger his territorial side comes out.  His size alone makes him quite a guard dog.  They are strong willed and can be hard to train.  Pyr's need to be well kept on a leash or well confined, they have a natural instinct to explore the territory around them.  Barking can become a nuisance for this breed, if they're protecting livestock they'll stay up at night and bark at anything that seems to be a threat.  They make wonderful farm animals given their natural tendency to protect those around them.  If you're going to bring one into your home they're going to need management to keep them from becoming destructive.  They generally do well and will become quite gentle with children and non canine animals such as cats.  Not recommended for the inexperienced dog owner.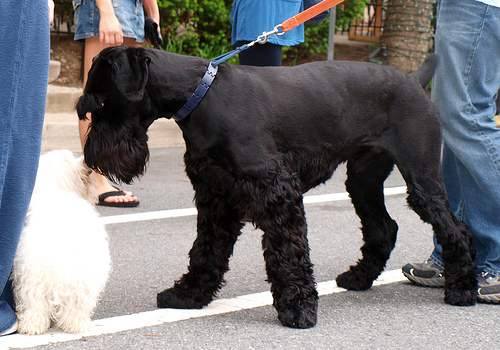 Giant Schnauzer

Originally bred as a working dog in Germany in the 17th century the Giant Schnauzer is naturally territorial.  They're suspicious of strangers and has potential to become aggressive.  They're an intelligent breed and need to be kept busy to avoid boredom and destruction.  Completely loyal to their owner and easily trained they can make decent pets.  Like all the other guard dog breeds early socialization is a must.  This dog naturally feels that his job is to protect his family so you shouldn't train him to become even more protective.  They aren't a happy go lucky social dog, they will generally tend to stay wary of strangers.  This breed needs a lot of daily exercise to keep him happy.  This dog can be quite demanding so he's not recommended for novice owners.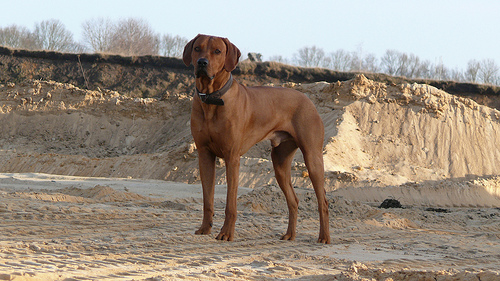 Rhodesian Ridgeback
Bred in South Africa as a hunting dog the Ridgeback has been around since the 16th century. Properly trained they can be a good family pet, but an untrained Ridgeback can become quite aggressive. Naturally protective they shouldn't be trained to guard, they need to be properly managed with socialization and
obedience training. These dogs are intelligent and loyal, known to be aloof with strangers. This breed is not recommended for first time dog owners – they're quite strong willed. With
proper handling they can made good family pets.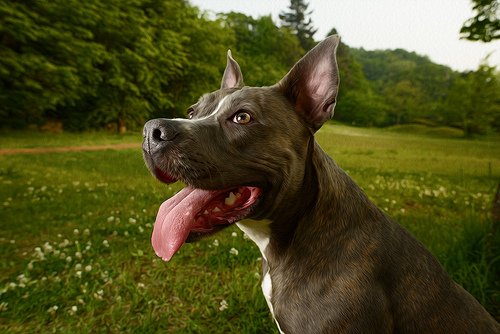 Staffordshire Terrier 
The Staffy is a people oriented dog who is loyal to his family.  He is courageous and intelligent and will protect his family from any threat.  This breed is known for being extremely obedient and he wants nothing more than to please his owner.  When property trained and socialized they can make good family pets.  They need more exercise than your average dog.   These dogs will not hesitate to warn you whenever strangers are approaching.  They're naturally protective of the family and can be come aggressive if provoked.  They have quite a muscular frame making them look imposing.  Due to poor breeding standards you need to be careful when choosing a staffy for your home – they can make a good family pet if you get one form a reputable breeder or rescue.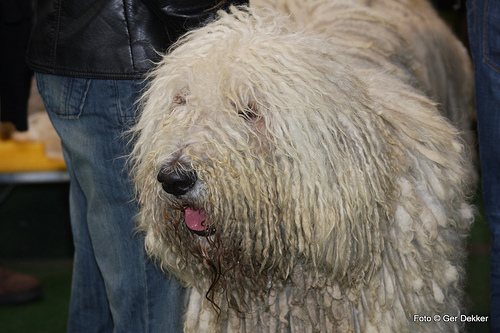 Komondor
The Komondor is a Hungarian livestock guardian breed dating back to the 16th century.  These dogs are not recommended for most families.  These are serious livestock dogs that have been bred to be extremely protective and confident.  This breed has been made to think independently and act on his own.   They are intolerant of trespassers and teasing and do not make good city dogs.  Live other livestock breeds the Komondor is nocturnal, he's going to be patrolling and watching the surroundings at night.  If not properly trained this dog will treat all strangers coming towards his flock as predators.  Not recommended for first or second time dog owners – don't own this breed unless you actually have a real flock to protect.
Check out the top ten laziest dog breeds and the most destructive breeds.
Photos by andreaarden Claudio Gennari  aldenchadwick  tussanganaMbey Lexie Stevenson   Jay Lee, Korea  Ger Dekker