Please Don't Drive With Your Dog in the Back of Your Truck
I can't stop thinking of a stupid meme I saw the other day — it said "Share this if you rode in the back of a pickup truck as a kid and survived." And what followed were some comments about how us Americans have gotten "soft & paranoid" — how we're far too cautious & overprotective these days…
Well guess what? I rode in the back of a pickup truck as a child and I survived, but I'm not about to go around calling other people "soft" for avoiding that behavior today. And being proud that you survived something shouldn't be taken as a safety endorsement.
And last week when I found myself behind a truck with four unrestrained Huskies in the back I wondered — is the driver one of the people that shared that meme, one of the people who thinks we've gotten too soft & overprotective?
Just because I did something as a kid doesn't mean I'm about to put my children or dogs in that same situation. Part of what makes us human's so intelligent is our ability to learn from the past in order to avoid unnecessary risks in the future.
Does that make us soft? I dunno, but it certainly makes us smarter & safer.
Dog's Should Not Ride in the Back of Pick up Trucks
According to American Humane an estimated 100,000 dogs die each year riding in truck beds. And that's not even taking into account all of the other injuries veterinarians see from dogs being driven around in the back of pick up trucks.
And your dog jumping or tumbling out isn't the only risk. Flying rocks and debris can cause serious injury, and all that wind can cause irritation and blow grit into their eyes. Even with a bed cap or harness you don't have complete control or immediate access if something were to go wrong. And you don't have to be going very fast for it to be dangerous:
An unrestrained 10-pound dog in a crash at 50 mph will exert roughly 500 pounds of force, while an unrestrained 80-pound dog in a crash at only 30 mph will exert approximately 2400 pounds of force. – Dog Travel Statistics
It's a dangerous way to transport your dog, and it's also very distracting — for both the driver and those around him.
Driving is already risky enough — loose dogs in the back of pickup trucks is another unnecessary distraction. Many truck manufacturers have made their cabs big enough for your dog to ride in comfortably.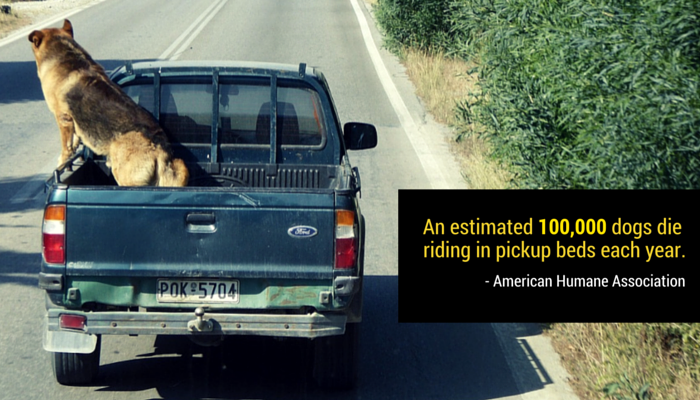 Is Driving With Dogs in Pickup Beds Legal?
In the U.S. riding with dogs in low pickup beds has been banned in a few states (California & Massachusetts) and jurisdictions, but in the vast majority of areas it's not even illegal to transport children this way.
There are also some states such as Minnesota and Oregon that require dogs to be enclosed or cross tethered in pick up beds, but there's almost always an exemption for farmers or those working in agriculture.
According to a 1998 study:
71 percent of Massachusetts veterinarians reported having treated animals (mostly dogs) injured as a result of riding unsecured and unprotected in the back of open-bed vehicles.  This resulted in more than 600 dogs being injured while transported in this unsafe manner. – MSPCA
There Are Many Options Available, Don't Risk It
Besides risking an infraction when you drive with your dog in the back of your pickup truck you're taking a big safety risk. Rather than having your dog ride freely in the back of your truck consider these options:
If you must drive with your dog in the pickup bed use a restrained crate
Use a harness or dog seatbelt to keep dogs safe in the backseat or pickup cab
Tether your dog with a short harness to ensure safety from strangulation and death
You can use a barrier to keep your dog in the cab or backseat
Dogs riding in the front seat can create distractions for the driver
A safer option is to safely secure a crate or "dog box" to the bed of the truck for your dog. Consider choosing a crate that is as enclosed as possible, to protect your dog from windchill and blowing debris (that could harm eyes and ears), while providing enough ventilation and shade for hot days. – Dogthusiast
In addition to regular harnesses there are a few cross tethers available which can help secure a dog in place – though they still risk injury from debris when used in pickup beds. Keep in mind that there are no standards or uniform testing procedures on safety when it comes to dog restraint systems. For safety test results on various harnesses & carriers refer to the Center for Pet Safety.
So Please – Don't Drive With Your Dog in the Back of Your Truck
Driving is risky enough as it is, and unfortunately there's no way to guarantee you won't get into an accident. Don't let your pet become another driving distraction or statistic. You can reduce the risk of serious harm to your pets by not having them ride in the back of your truck.
You Can Help By Spreading The Word
Not everyone is aware how risky driving with dogs in pickup beds is — you can help spread the word. Don't risk it, let's help keep our pets safe.