Cookie & Gracie: Two Amazing Adoptable Dogs
Meet Cookie & Gracie; two amazing dogs available for adoption in southeast Michigan. Cookie's story broke my heart; she's dealing with some anxiety and fear issues after a traumatic incident (details below). Gracie is such a sweet girl; she's been patiently waiting for a home for over 2 years. She's doing amazing in her training classes and even won the "Best Loose Leash" walker award.
Cookie Needs a Home After Family Tragedy
Update 05/19/15 – Cookie has been adopted
Cookie is a 44 pound young Staffordshire Terrier available for adoption at the Almost Home Animal Rescue League in Southfield, Michigan. She's a well behaved young girl who will need an owner willing to help her deal with some fear issues.
She's great with children and would do best in a home without other dogs. Due to her traumatic past she'll need  an owner whose willing to work on building up her confidence. Cookie's story is absolutely heartbreaking.
Here's the heartbreaking story about Cookie's former home:
I lived in a home with my family which consisted of my adopted mommy and daddy and two teenage brothers. I also had a younger puppy brother and an older doggy brother. We were so loved and were treated like kings! Then one night, our world was changed forever. You see, my teenage human brothers were away for the night and the rest of us were all sleeping peacefully. Two bad men broke into our house in the middle of the night. They robbed our house, and dog-napped my baby brother, then they did the unthinkable. I don't like to talk about it but there were some very loud noises that scared me so bad I ran out the door. I was so frightened that I tried to dig under a fence to get help but I couldn't get out. The next day I was crying and shaking because I was so scared when some of the family came over and found out what happened. They cried with me and tried to comfort me as they told my mommy and daddy were gone forever but they were there to find us good homes. I was brought to Almost Home and the staff hugged me and promised to keep me safe. – Almost Home Animal Rescue League
Needless to say this tragic incident has left Gracie with some fear and anxiety issues. She sometimes wakes up from bad nightmares whimpering and afraid. Once she get's some attention and love from the rescue staff she settles back down again. She's looking for a loving home that can help her feel safe and confident again.
Gracie Has Been Seeking a Home For Over 2 Years
Gracie is a 7 year old female Border Collie/Staffordshire Terrier mix. She's been a resident at the Almost Home Animal Rescue League in Southfield, Michigan for over 2 years. She's been enrolled in their training & socialization program for the past 4 months and her trainers say she's definitely ready for a home of her own. Gracie would do best in a home without other dogs.
She's getting good with meeting other dogs and her fear of men has started to diminish. She's an extremely loyal girl that wants to find her forever home. Gracie's adoption includes an in home training session. She loves going for walks and relaxing at your feet. She even won the "Best Loose Leash" walker in her training class.
From the rescue:
When we meet, which I hope is very soon, you will see with the volunteers and staff that I am a very loyal girl. When I love you, I love you with all my heart. I like to give you kisses, sit in the grass in your lap, have my belly scratched, and just hang out. I am not a high maintenence dog at all.
My favorite thing is going for walks because I am so good on leash. But I also enjoy relaxing at your feet, even if they might be stinky that day! I also enjoy chewing on bones or stuffed frozen Kongs. I have shown some interest in playing fetch, so maybe I could practice that more in a new home.
Gracie has been making wonderful strides with her training. She's looking for a special home with someone willing to continue working with her; she'll repay the debt with endless love.
Can't Adopt? You Can Help by Sponsoring a Rescue Dog in Training
Rescue dogs from Almost Home receive training and socialization classes from the Better Life Canine Center and the Detroit Dog Trainer. If you're unable to adopt consider sponsoring their training.
Almost Home currently had 14 dogs enrolled in the training program and their goal is to raise $100 per dog. If they exceed their goal they'll be able to add more deserving dogs to the training classes.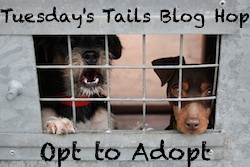 The Tuesday's Tails Blog Hop is hosted by Talking Dogs and Dogs N Pawz. Every week this hop features some amazing homeless pets looking for homes. Join us in showcasing some shelter pets seeking their forever homes or help out by spreading the word.