Meet Your Best Friend At The Detroit Zoo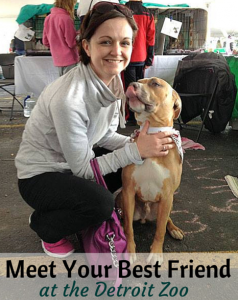 The Detroit Zoo and Michigan Humane Society along with more than 20 local animal welfare organizations are hosting the semi-annual Meet Your Best Friend At The Zoo this Friday & Saturday.  There is no charge for admission or parking for the adoption event. Regular admission and parking fees apply for those visiting the Zoo. There will be approximately 1,000 dogs and cats available for adoption from groups all across Michigan.
September 19 & 20, 2014
Fri.: 1 p.m. to 7 p.m. 
Sat.: 10 a.m. to 5 p.m.
The Detroit Zoo is located in Royal Oak: 8450 W. 10 Mile Rd, Royal Oak, MI 48067
Hundreds of dogs, cats, puppies and kittens will be available for immediate adoption to loving homes at one of the nation's largest off-site companion animal adoption events. Adoption fees and policies are set by each individual group. Adopter's must present a valid drivers license or state ID. All available animals have received a medical check-up and age-appropriate vaccinations.
Since this event began in 1993 over 20,000 animals have found their forever homes. If you know of any Michigander's that have been looking to add a new furry friend to their home send them on over. Help spread the word about this wonderful event and support all the great rescue groups that work hard to make it happen.