What Unethical Breeding Has Done To Bulldogs
Over the past 100 years the Bulldog has gone from a great athlete to one of the unhealthiest breeds around. And despite numerous concerns about their health & overall well-being they continue to rise in popularity. And the problem, of course, is completely man made.
We've bred Bulldogs to be extreme; we shortened their snouts and legs, increased the size of their skull, and of yes, we've even made their underbite a desirable feature. But when it comes to the welfare of the breed itself we need to ask ourselves: what has unethical breeding done to Bulldogs?
Bulldogs Are Increasing in Popularity Despite Health Concerns
We all know the Bulldog; with their stocky build, flat face, and underbite they're one of the easiest recognizable breeds. And what once used to be a healthy, athletic dog is now a short, stocky breed plagued with health problems.
Despite numerous health concerns they've gained a lot of popularity amongst dog owners rising from the 16th most popular AKC registered breed in 2003 to number 5 in 2014. Bulldogs make wonderful companions, they're generally laid back and easy going. But unfortunately for the Bulldog they're plagued with numerous health concerns which leave many loving owners heartbroken.
To many they're an adorable barrel chested companion, to others they're the poster child for what's gone wrong with dog breeding.
The Original Bulldog Was Quite Athletic
Commonly referred to as the English Bulldog the term "Bulldog" can be traced back to the year 1568. They were originally bred in England to help control livestock.
The dog became widely used in the sport of bull baiting; dogs would be set onto a tethered bull and whichever dog brought the bull down would be declared the winner. The sport gained a lot of popularity but it didn't last. Baiting was made illegal by the Cruelty to Animals Act of 1835.
Dog show enthusiasts wanted to preserve the breed and decided to selectively breed out the aggressiveness of the original Olde English Bulldog.
After the outlaw on baiting many Bulldogs were exported to the United States & Germany. In Germany they were crossbred to eventually create the Boxer. In the United States they continued to work at herding livestock.
What Unethical Breeding Has Done to Bulldogs Over the Years
Over the years the Bulldog's physical traits have been bred to be more extreme. The face has become flatter, the legs have shortened, the head has grown larger, and the underbite has grown. These changes have been made to give the Bulldog a more expressive face, emulating the look of a human child.
It's these extreme changes that have led to the many health problems facing the Bulldog today. And unfortunately new research suggests that improving their health at this point would be difficult due to their lack of genetic diversity.
The English bulldog has reached the point where popularity can no longer excuse the health problems that the average bulldog endures in its often brief lifetime. – Scientists Warn About Health of the English Bulldog, BioMed Central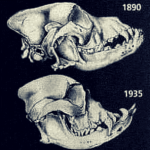 Most Bulldogs Can't Breed Naturally
Most Bulldogs can't breed without human intervention, both in the actual mating & birthing process. If it weren't for this intervention in breeding the Bulldog as it stands now would become extinct.
As many as  95% of Bulldogs are delivered by Cesarian section. Their head has been bred to become larger over the years, and as a result these dogs cannot birth them naturally through the pelvic canal.
Common Bulldog Health Concerns
The Bulldog has numerous health concerns, and I'm sure many Bulldog owners can sympathize. The annual veterinary costs for a Bulldog are twice as much as those for a Labrador Retriever.
They have problems with their breathing and respiratory systems due to the enlargement of the soft palate and narrowing of the oropharynx. They're also known for problems with their heart, hips, eyes, and skin.
Bulldogs are extremely intolerant of heat. They must be kept in an air-conditioned area with limited trips outside when the temperature is over 80 degrees F or when the humidity is high.
They have the highest rate of hip dysplasia in any breed. A study released in 2009 by the Orthopedic Foundation for Animals found that 71.6% of the 564 Bulldogs they studied were affected.
A 2004 study from the Kennel Club found that the median life expectancy of a Bulldog is less than 7 years but a more recent study from UK vet clinic data puts the median at 8.4 years. Birth defects, such as flat chests, have led to high puppy mortality.
It is unbelievable that we need invasive surgery just to repair the basic needs of the dog. Breathing is the most basic need and this is no way acceptable from any ethical point we have today. – Dr. Oechtering
Documentary Exposes Unethical Breeding Practices
In 2008 BBC One aired a documentary called "Pedigree Dogs Exposed" in which looked into the health and welfare of pedigree dogs in the United Kingdom. The film spawned three independent reports that all found that breeding for "extreme traits," like the massive and short-faced head of the bulldog are detrimental to the health and welfare of the dogs. The program stated that most Bulldogs are unable to give birth naturally because their heads have become so large.
The film didn't just focus on Bulldogs, they highlighted some drastic changes in other breeds such as the Pug, German Shepherd, Basset Hound, Bull Terrier and Dachshund. It's not the greatest quality but you can find the full film on vimeo. The BBC released "Pedigree Dogs Exposed – Three Years On" in 2012.
Kennedy says she thinks the breed has been debilitated by show standards that reward exaggerated features like the flat face and large head. She notes that Bulldogs can have such trouble breathing that many cannot exercise normally or even ride in a car that might get warm. – Veterinarian Speaks Out Concerning Bulldog Health Problems, Veterinary Information Network (VIN)

The Kennel Club's Breed Standard for Bulldogs
The British Kennel Club issued new standards for Bulldogs in 2009. The new standard calls for a "relatively" short face, "heavy, thick-set, low-swung body," a "very short" face and muzzle and a "massive" and "undershot" jaw. The standards were issued to create a healthier and leaner Bulldog.
The Bulldog Club of America owns the copyright to the American standard and doesn't plan on following the new standards. The American Kennel Club responded by saying they have no plans to pressure the club into changing it's mind.
Revision of breed standards, to include evidence-based limits on physical features such as muzzle shortness, and full consideration of other approaches such as outcrossing, are now needed to ensure high risk breeds, such as the English bulldog, do not continue to suffer unnecessarily. – Vets Urge Revision of Breed Standard to Protect Animal Welfare, British Veterinary Association (BVA)
When Breeding Goes Too Far
I'm not against good breeding practices. There are some breeders who are truly dedicated to the welfare and health of their animals. They do proper health screenings, get to know potential owners and do not sell their dogs to pet stores or the highest bidder. They demonstrate a great knowledge of their breed and value their reputation for seeking ways to improve upon it.
All breeds are susceptible to bad breeding practices, but the Bulldog is by far the most extreme example. The current breed standards for the Bulldog are well beyond what I would consider healthy. When you've bred a dog to have such extreme features that directly impact it's health I find it questionable to say the least. When we breed dogs for extreme traits to make them more marketable, despite the consequences to the dogs themselves, something has gone wrong.
It's these extreme features that make the Bulldog so desirable for consumers, yet so detrimental to the breed itself.

The breed is noted to have locomotion difficulties, breathing problems, an inability to mate or give birth without assistance. . . . Many would question whether the breed's quality of life is so compromised that its breeding should be banned. –  Dr. Nicola Rooney & Dr. David Sargan
What Can We Do?
What's been done to Bulldogs by bad breeding has had such a negative impact on the animals it defies common sense. They wanted the extreme look of what we now know as the modern Bulldog and sacrificed the dogs welfare to achieve it.
It's a shame what's been done to them because they have such great personalities and make wonderful companions. Hopefully one day a healthier breed standard will emerge.
If you're considering getting a Bulldog please adopt one from a rescue or shelter. Don't support bad breeding practices by buying a Bulldog puppy from a breeder or pet store.
Additional Resources