Roundup 85: Favorite Dog Articles, Videos & Deals of the Week
From how dogs can teach machines a thing or two about chemical detection to the amazing potential of dogs in shelters, here's some of my favorite dog articles of the week. I hope you enjoy them as much as I did.
And just because I missed the deadline on National Mutt Day doesn't mean we can't still celebrate. In fact I'm going to celebrate every day with my favorite mutt.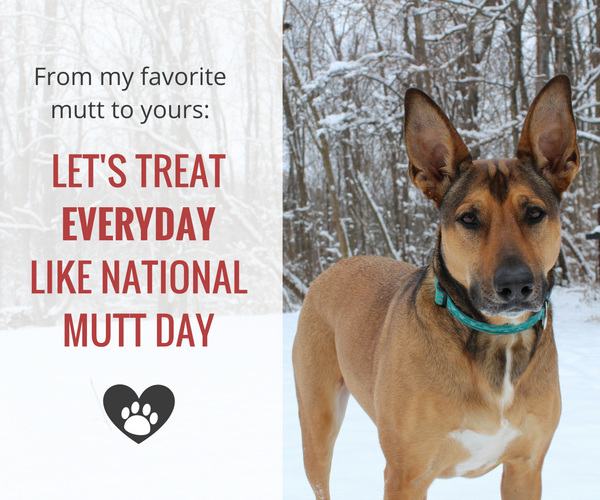 Favorite Dog Articles of the Week
Less is More (When it Comes to Training) | Patricia Mcconnell
Great article about being overwhelmed with information, and why taking it slow & focusing on one thing when it comes to training can lead to better results & consistency.
Playtime After Training Improves a Dogs Memory | Companion Animal Psychology
Interesting new research suggests that adding some playtime after a training session, such as a game of tug or fetch, can enhance our dogs memory.
Dogs Teach Bomb-Sniffing Machines New Tricks | Scientific American
Interesting look at the development of bomb-sniffing machines and how dogs, nature's best chemical detectors, are helping point out the limitations of current technology.
Puppy Tracking – What Age Should Training Start? | MY GBGV Life
Great article & video about getting started with scent tracking with your pup and why it's never too early to start (especially if your dog enjoys it).
Former K-9 Flash Inspires Her Human to Help Other Retired Police Dogs | Dogster
Sweet story about the amazing potential of shelter dogs, and how one special dog named Flash inspired her owner start a non-profit that helps retired police dogs.
Favorite Dog Videos of the Week
Fringe feels pretty sweet indeed…
Tilly's Incredible Journey
Bath time can be pretty fun.

Favorite Dog Deals of the Week
This post contains affiliate links, if you make a purchase I'll earn a small commission.