Roundup #13 – Our Favorite Dog Articles, Deals, & Videos of the Week
Laika and I were able to get out to the park every day this week and it's been awesome. Well except for Tuesday when she decided to plop down face first into a giant mud puddle and roll around until she was completely covered (with bonus horse manure). What is it about mud and poop that is so irresistible to dogs? Luckily it's nothing that a simple hose down can't fix.
 Our Favorite Dog Articles of the Week
If you've got some extra time this weekend check out some of these great articles – I hope you enjoy them as much as I did. Have a great weekend – and try not to get too muddy. (I'm no mathematician but I've calculated that for each dog you own your risk of getting muddy increases by at least 200 percent)
Rescue Decisions – The Dog or the Community?
The question of what animals to save is something rescue workers have to face, and it can be heartbreaking. There's a moral dilemma that has to be asked – do you choose to save the dogs that are already "adoptable" or work on those that aren't as likely to get adopted. This article explores both sides of that decision.
First of it's Kind Canine Health Study Enrolls 3000 Golden Retrievers
The Morris Animal Foundation recently announced that they'd finished the enrolling 3,000 dogs for their Golden Retriever lifelong study. They'll be studying the effects of genetic, nutritional, and environmental risk factors for cancer and other health issues.
Dogs Get Anxiety, Too
A look at how behavioral pharmacology, such as treating dogs with anxiety medication, is becoming widely accepted amongst veterinarians. Since dogs don't talk many pet owners remain conflicted about treatment options because it's much easier to treat undesirable behaviors when they know why it's happening.
3 Ugly Truths About Buying a Pet #PuppyMills
An estimated 2.5 million puppies are born in puppy mills each year. Here's a look at some of the facts you might not know about the puppy mill industry and what you can do to help.
Female Canines Found to be Friendlier than Males
Researchers in Sweden found that female dogs tend to seek out the help of humans more than their male counterparts. Although they don't know the exact reason why females seem to be more cooperative they think it might be a side effect of their natural nurturing instincts.
Does Training Make Your Dog Smarter?
It's been long known that training can affect the way a dog reacts to stress and fear, but a new study is taking a look at whether there seems to be a measurable difference in the intelligence level of trained vs untrained dogs.
Ty Foster – Timout Photo Series
Amazing photo serious of dogs wearing the "cone of shame" as seen in the featured image. If you've ever had a pet that's had to wear one you'll understand the total look of sadness and defeat.
It's Me or the Dog
Interesting look into how a dog can effect the relationship we have each at home. Since it can be easier to express love for a dog than another human it seems dogs might be inciting jealously between owners.
I can honestly say some of the best moments from my travels have simply been watching her run free. Doing what she was meant to do.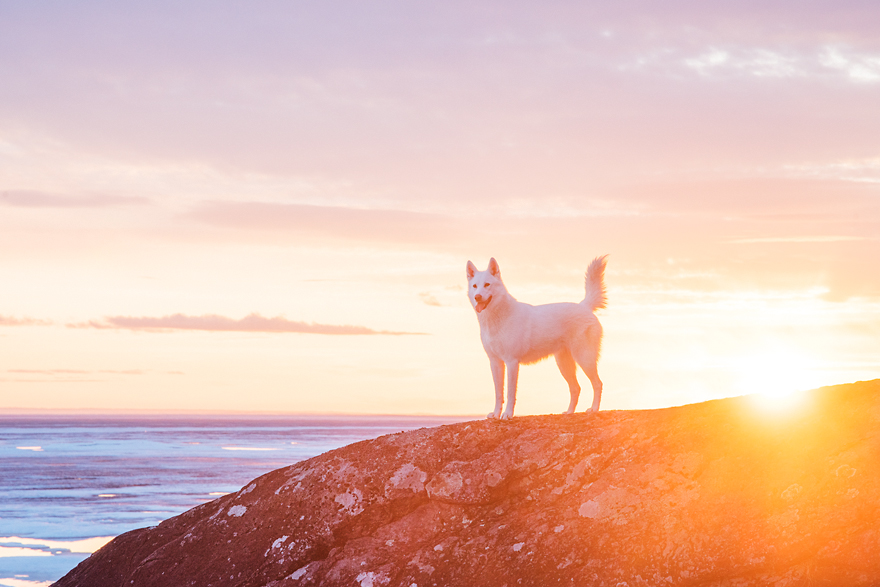 Best Dog Deals of the Week
Amazon – Easy Walk Reflective Harness Size M – Black & Silver – $14.39 (52% off)
Amazon – Kong Extreme Toy Size M Black – $9.34 (41% off)
Entirely Pets – May sale $10 off orders $75 or more w/code 10OFFA
Only Natural Pet – 15% off with code AFTAKE15 thru June 1
Petco – 30% off orders of $100 or more w/code MAYEXT thru 05/10
This post contains affiliate links, if you make a purchase I might earn a small commission.
Best Dog Videos of the Week
Someone bought a new toy to the dog park
Meet the heroic dog that fought off coyotes to save his owner.
Shelter dogs make art to raise adoption awareness
Great look at the Prison Puppy Raising Program
Here's some Corgis in slow motion to brighten up your day
Awesome Infographic of the Week
Ever wondered how your sleeping habits compare to those of your pets? Check out this great Infographic by Web Blinds.
Read any great dog related articles this week? Be sure to submit them for a chance to be included in our weekly roundup series.