Pet Blogger Challenge 2016 – Lessons Learned, Questions Raised & Feedback Welcome
I love these blogging challenges. Finding out the why, when, where, who & what of my favorite blogs is awesome. These challenges bring us closer together & help us grow, so if you have a pet blog be sure to join in– it's an awesome opportunity for feedback & support.
The Pet Blogger Challenge 2016
1. How long have you been blogging? And, for anyone who is visiting for the first time, please give a quick description of the subject of your blog.
Started blogging in the summer of 2014. Puppy Leaks is for dog owners looking for some simple ways to improve our lives with our dogs. From training tips to stuffed Kong recipes – I like to write about things all dog owners can use.
2. What is the one thing that you accomplished during 2015, either on your blog or because of it, that made you most proud?
Being nominated for the Best New Pet Blog at Blog Paws. It was something I never expected and I squee'd like a little girl watching the ceremony from home. Laika had never heard such a noise come from me, and hasn't since. She was shocked as well – though for a slightly different reason.
3. Which of your blog posts was your favorite this year and why? (Please include a link.)
Please Stop Sharing That Guy Walking Shepherd's Off Leash. Have you seen that video of the dude walking his 6 German Shepherd's "like a boss" off leash? Turns out the dude is a complete douche that abuses his dogs. My post has been linked on sites that share his videos with comments like "do you know what this guy really does" so I'm very happy. I find it wonderful that I rank for "guy walking shepherd's off leash" so when people search it they'll find mine before they spread any more of his crap.
4. A common theme from last year's challenge was that many of us wanted to increase the size of our audiences. Whether or not we intend to monetize our blogs, it seems we'd all like to reach more people. It feels good to know that we're connecting with others, sharing a laugh or supporting a cause, and it's motivating to see those numbers grow! What is one thing you've done in the past year that has brought more traffic to your blog?
Working more on Pinterest has gotten me a lot more daily visits. (between 500-1000 a day)
5. Which of your blog posts got the most traffic this year? Why do you think it was so popular? (Please include a link.)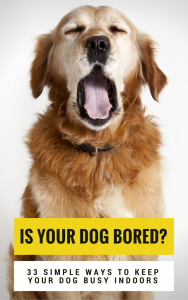 33 Simple Ways to Keep Your Dog Busy Indoors went viral, but it didn't happen overnight. After trying 3 different designs on Pinterest this image finally took off. Since this Pin has done so well (over 48k shares) I can say that using a great image & catchy list headline can be worth well more than 1000 words.
Creating images that do well on Pinterest is so worth the extra time & effort, and it doesn't take long at all once you're familiar with photo editing. Unlike other social networks Pinterest brings in steady traffic long after that first post – I'm still getting 500+ visitors a day from that one Pin. I wrote last month about how I created that image using a free template on Canva, which is my favorite free photo tool by far.
6. What is one blog that you read religiously – other than your own – and what makes you such a devoted reader?
I keep tabs on over 100 pet blogs from doing my round up posts so it's impossible for me to narrow that down. Here's a few other gems in different niches you might enjoy:
I'm obsessed with The Bloggess, The Everywhereist & The Middle Finger Project. I keep coming back for the humor and I never leave disappointed.
7. What resources do you rely on to enhance your technical, writing, photography, social media, or other skills that improve your blog?
8. What is the best piece of advice you can offer other bloggers?
Publish posts that you're proud of & don't worry about having to post multiple times a week. Years from now your posts will still be around with your name attached – so make sure they're not something you're going to be embarrassed by. (I wrote a post called "Dog Gets Head Stuck in Wheel" & "Dog Eats Wedding Ring" during my first few months, just sayin')
I got carried away when I started, I was publishing daily – and although they might not be written badly they're no longer of interest to me or anyone else. After a few months of blogging I decided I was going to stop publishing just to publish. Growth doesn't come from a bunch of little crappy posts as I found out, it comes from writing posts that you yourself would find valuable, entertaining or inspiring.
If you're not feeling it chances are no one else will either. I changed directions and started to write more long form content and have seen more "success" since then. But it's up to you – what do you want your blog to be known for? What do you want to share with the world? Do you want to entertain & make people laugh? Do you want to write in depth guides? Do you want to write the best damn review ever written on that new food bowl?
Whatever your goal is make sure what you're publishing hits those personal benchmarks & go from there. Don't lose your voice by getting lost in the crowd of uninspired writing. There's a lot of mediocre blogs out there, the ones that stand out are the ones that make you feel something or answer a specific question.
When it comes to your readers make them laugh, educate them, or inspire them. That's what people remember, and that's what brings people back time & time again.
9. What is your vision for your blog in 2016? Do you have specific goals?
I'd love to be able to create more long form content and evergreen posts. One of my favorite parts of blogging is the research. Being able to produce content that links out to some of the awesome information out there that might be yet undiscovered by many is great. I'm so sick of finding that the top results on Google are those 10 page posts you have to click through… Not a fan, I'm going to do my best to fight against that trend.
Let's hear it for the art of long form content! Right? Well I love it anyway. I don't like the idea that just because people's attention spans are getting shorter we have to compromise. If it's a big topic it's going to be a big post, not one that's going to be split into 10 parts for the sake of keeping it short.
10. You have the attention of the pet blogging community – is there one blogging challenge you'd like help with, or one aspect of your blog that you'd like input on?
Do you have any experience with Scrivener? I'm working on a book and I've heard nothing but positive reviews on it but I'd love to hear that from someone I trust.
I'd love more suggestions for round up posts. Keep on sharing awesome dog stories you hear & don't be afraid to send em my way. I plan on getting back to doing weekly round ups next month so I'd love to have a big old queue lined up 🙂