Pet Blogger Challenge 2015
Blogging is like work, but without coworkers thwarting you at every turn. – Scott Adams
Taking Time to Reflect & Find Inspiration Through Others
Today I'm taking part in the 5th annual Pet Blogger Challenge. I've loved reading through the previous entries and I'm really excited to take part this time around.
The Pet Blogger Challenge is hosted by Go Pet Friendly. It's a lovely way to encourage, support, and gain inspiration from our fellow bloggers. I love reading about your goals, inspirations, and challenges. You inspire me every day with your beautiful photos, stories, and insight.
I've learned so much from the pet blogging community so far, and I'm looking forward to what's to come in 2015.
I've been blogging since February of 2001. When I started blogging, it was a dinosaur blog. It was me and a handful of tyrannosaurs. We'd be writing blog entries like, 'The tyrannosaurus is getting grumpy.' – Neil Gaiman
Pet Blogger Challenge 2015
1. How long have you been blogging? And, for anyone stopping by for the first time, please give us a quick description of what your blog is about.
Just shy of 7 months. Puppy Leaks is about finding ways to improve our lives with dogs – through education, communication, and animal advocacy.
2. Tell us one thing that you accomplished on your blog during 2014 that made you proud.
Having the courage to start a blog to begin with. I'd been messing around with the idea in my head for quite awhile, then one night I decided to just go for it. The term Puppy Leaks hopped in my head, so I bought the domain and just started typing.
Since then it's been a learning frenzy – and I've loved every moment. I'm proud to say I have a blog, something I planned, designed, and wrote. Something to call my own. I went outside my comfort zone and tried something new.
What lessons have you learned this year – from other blogs, or through your own experience – that could help us all with our own blogs?
The blogs I find myself repeatedly coming back to are the ones where I walk away with something valuable. Whether it's learning more about nutrition, reading an inspirational story, or leaving with a new perspective on a given subject.
From analyzing the blogs I've really connected to I learned to stop writing just to write. I don't worry so much about posting everyday. I still find myself writing a little something each day – but I don't feel compelled to instantly publish it. Trying to find something to post every day made me write some stuff I'm not proud of.
4. What have you found to be the most successful way to bring traffic to your blog, other than by writing great content?
As soon as I connected with some other pet bloggers through commenting on their blogs I noticed a big difference. When you're first starting out it's important to make connections with other bloggers. They've been so helpful and supportive – in a short amount of time I really felt like I was part of a great community.
5. What was your most popular blog post this year? Did it surprise you that it was your most popular?
By social shares it's "Quick & Simple Ways To Relieve Dog Boredom," which was surprising because it was the first time anything I'd written got more than a few comments and shares. It's such a nice, warm feeling knowing that something I'd written was deemed share-worthy. It's the best feeling in the world when you receive such amazing comments.
6. What was your favorite blog post to write this year?
It's a tossup between "Vaccine for Dogs with Bone Cancer" & "Do Dogs Have Feelings?" The article about Sasha was one of the first heartfelt pieces I wrote. She was the first dog to enroll in the bone cancer vaccine trial being conducted at the University of Pennsylvania's School of Veterinarian Medicine. Being able to honor her, and her wonderful owners, for having the courage to join in on the fight against cancer was something I felt compelled to write.
I loved writing about dog emotions from a scientific angle. Dogs are considered property in much of the world – I really wanted to share all of the evidence that suggests how emotionally complex they are. They are sentient beings, and to many of us they'll always be more than just property. The scientific approach to understanding dogs has come so far in the past decade. There's a lot of amazing work being done that helps explain why dogs are considered mans best friend.

7. Has your policy on product reviews and/or giveaways changed this year?
Showing off how much of a newbie I really even have a review policy in place. I've done two reviews on items that I owned before I started writing – both of which are items I really love. (Outward Hound dog backpack & the Kong Wobbler)

I don't own a smart phone (I know…lol). So that rules out most gadgets and apps right away.

If you don't do reviews, is this something you'd like to do more of? What hurdle is getting in your way?
I'm not opposed to doing more reviews – but unless it's an item I really love it's hard to find any inspiration for writing them. Laika and I are pretty simple – we don't have a lot of extra toys or treats in the house. If I do more reviews in the future it'll be on some basic stuff like leashes or harnesses.

8. What's your best piece of advice for other bloggers?
Don't get too caught up in blogging advice. Being a new blogger I thought I had to learn every single aspect of the blogging world. I read about SEO, analytics, HTML, marketing, logos, taglines, a/b testing, backlinks, ect. It's all valuable information – but it took so much time away from what I set out to do. Write.
Keeping up with technology is important. Having a nice design is important. But what I really find myself in love with is a great story, a wonderful case study, learning something new. It's so easy to become distracted by details – I have to remind myself that the real foundation of any blog is the words themselves. I don't even want to admit how many hours it took to find that color for links, or the proper spacing around my header. Things that probably don't matter to anyone but myself. Don't get sucked in to managing every tiny detail.

When you're new to blogging you should reach out to other great bloggers. We're not amongst competition here, we're a community. We're friends. The encouragement that comes from the pet blogging network is wonderful. You'll find your best support system through other bloggers, and you'll make a lot of new friends.

9. What goals do you have for your blog in 2015?
I need to work on my organization. My categories, tags, and series are somewhat of a mess. I want to continue to work on my writing skills, and I'd like to learn to take better photos.

10. If you could ask the pet blogging community for help with one challenge you're having with your blog, what would it be?
I'm seeking more entries for future round up posts. I'd love for everyone to share their favorite posts from their own blogs as well as others gems they've found. I love doing them, it's enjoyable being able to share other people's amazing posts – because really great work deserves to be seen. But being one person I know I'm missing out on so many great works, so I'd love your input & suggestions.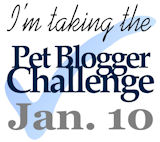 Not only are bloggers suckers for the remarkable, so are the people who read blogs. -Seth Godin