C.H.A.I.N.E.D. Inc. – A Different Kind Of Rescue
Freeing dogs from the chain…one dog at a time. C.H.A.I.N.E.D. Inc. is a different kind of rescue, and they've been providing help to dogs in the Detroit area since 2011. 
In 2011 Gina Freemon came up with an innovative way to help enhance the lives of dogs living in Detroit. Not all rescue organizations follow a traditional structure; C.H.A.I.N.E.D. Inc. is proof that sometimes following your own path can make the greatest impact.
C.H.A.I.N.E.D. Inc. is a 501C3 non profit based in Detroit that helps improve the quality of life for dogs that live their lives chained up outside. They provide insulated dog houses, secure fencing, spay & neuter assistance, vaccines, heartworm medication, treats, toys, food, and owner education to those in need.
It All Started In 2011
C.H.A.I.N.E.D. Inc. began in 2011 when their director Gina Freemon was working as a community care registered nurse in the low income neighborhoods of southwest Detroit. She was shocked by how many dogs spent their lives chained up outside, so she began asking the owners if she could help by bringing by some treats.
After researching and speaking with many of the dog owners she found out that the majority were chained up outside because they could escape fences. Many of the owners believed chaining up dogs outside is fine because it's what they were taught was normal.
Gina decided she wanted to do more for these dogs. With owner permission she, along with her husband and father, extended their first 4 foot fence. Because of that fence extension two dogs were able to be unchained.
She says she'll never forget the feeling of watching the dogs behavior immediately change as soon as they were let free, they instantly became "normal" dogs. It was so rewarding she was compelled to help more dogs, and that is how C.H.A.I.N.E.D. Inc. began.
Accomplishments
Since C.H.A.I.N.E.D. Inc. began they've been able to help 856 dogs. They've provided 507 dog houses, 511 dogs have been spayed or neutered, 27 fence projects, and 202 dogs have been rescued and adopted.
All of these have been made possible by generous donations and volunteers. 100% of the donations go directly to the dogs. They've partnered with other local rescue organizations to get many of the dogs spayed or neutered. In addition to the 202 dogs that they've rescued themselves additional litters of puppies and dogs have gone directly to other rescues for adoption.
Continuing To Make A Difference
C.H.A.I.N.E.D. Inc. is continuing to make a difference in the lives of many animals in need. In the few years they've been around over 500 dogs have been helped.
The owners are much appreciative as well. They don't want their dogs to live tied up; many have asked for fences and lighter tie outs. Some have let their dogs live inside, most spend much more time with their dogs after receiving help and education on the living environment for their animals. Some owners have surrendered their dogs directly to C.H.A.I.N.E.D. Inc. in order to give their dogs a better life.
Freemon says "I believe that dog owners trust us, and we are very successful with our outreach and education because we focus on building relationships with these dog owners. We do not go in and bark orders, judge, criticize, or cause problems. We are very calm, open-minded, respectful, informative, and actually work to "help" the dogs and their owners."
A Different Kind Of Rescue
They're not you're traditional rescue organization but C.H.A.I.N.E.D. Inc. is proof that outreach, education, and providing supplies to dog owners is an quite effective at making a difference. The lives of the dogs they've freed from chains has been greatly enhanced.
If you'd like to help out you can visit their site to see what they're currently in need of; they've also got an amazon wishlist set up.  If you're unable to donate consider sharing their story. They've proven that sometimes thinking outside the box is the best way to get things done.
We can't do everything, but we can each do something.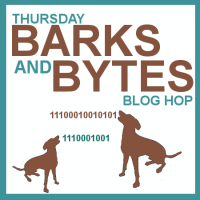 The Thursday Barks and Bytes blog hop is hosted by 2 Brown Dawgs and Heart Like a Dog.