Kong Wobbler Review: Interactive Dog Toy & Food Dispenser
There aren't many toys that last a long time in this household but the Kong Wobbler has been been here for years. I was hesitant at first to buy it because I'm cheap, and anything close to $20 makes me skeptical, especially given my dogs track record for destroying dog toys within minutes.
I will say the Kong Wobbler is not completely indestructible though; when I first got it I accidentally left my dog with it for a few hours, after that it wouldn't close anymore as she'd managed to break a few pieces off. I replaced it because it's such an easy way to keep my dog occupied. Our new Wobbler doesn't have a scratch on it; it's pretty durable and tough, though not indestructible.
Here's my dog toy review of the Kong Wobbler, one of the few toys we consider a must have in this house.
Also recommended – Our Top 5 Indestructible Dog Toys
Laika Loves Her Kong Wobbler
Kong Wobbler Review
Even with repeated uses Laika still gets excited to play with it. It's fun watching her push it around with her nose and paws. Jumping around and growling at it. She loves it; it makes eating a lot more enjoyable. She's also getting a great mental workout while using it; something most dog owners would appreciate. A tired dog is a well behaved dog.
I don't have to worry about her eating too fast. Large deep chested breeds are predisposed to bloat, also known as gastric dilatation-volvulus if they eat too quickly. All of the excess gas can cause their stomach to turn and it cuts off blood flow.
Laika is a picky eater. The Kong Wobbler solved that problem right away. She now looks forward to getting her meals and having to work for them. It's amazing what one simple game or activity like feeding from a toy can do for  a dogs brain. She's more relaxed and easy going after we incorporate the Wobbler into meal time.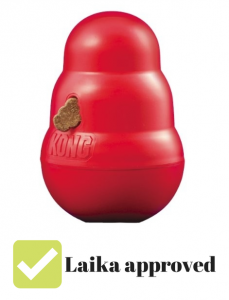 Pros of the Kong Wobbler
Easy to clean, dishwasher safe
Great for dogs that eat too fast
Gives the dog a mental workout
Makes the dog work for dinner
Dogs have fun playing, rolling it around
Great for peaking the interest of picky eaters
Easy to fill
Cons of the Kong Wobbler
It can be loud when knocked around
On the large size the hole might be too big for some kibble
If not supervised dogs will start to break pieces off (not easily though)
Base is really low, have to hold upside down to place a lot of food inside
Kong Wobblers Are Great For Fast Eaters
Basically it's a hard plastic Kong shaped toy that you fill with food; the dog nudges it around to slowly get food from the opening. It's great for dogs who scarf down food, it automatically slows them down. It's also some great added mental stimulation for high energy dogs. Something as simple as making your dog work for their food really does mentally challenge them.
As I mentioned before dogs that eat fast might become prone to bloat; the Kong Wobbler is one guaranteed way to slow them down.
Dog Food Sizes for the Kong Wobbler
My dog is a large breed and she eats Blue Buffalo or Taste of The Wild kibble, both foods fit into the size large easily. I have read some reviews complaining about the size of the hole being too large for their kibble so you may want to consider a smaller size Kong or do what they did and use some tape to cover up some of the opening.
It fits her 2 cup meal perfectly, it's how she gets her dinner every day. It's a little bit on the heavy side so if you have an excitable dog you should expect some heavy banging around. She still gets excited every time I get it ready. Since it comes apart in two big pieces it's really easy to wash. You just have to watch out if you have a large dog with strong jaws, they can destroy these things if not supervised.
Would I Recommend The Kong Wobbler?
Adding a little bit of challenge to my dogs dinner is added mental stimulation for her. When living with an active, high drive dog that's quite invaluable. She enjoys using it; it's a little extra workout for her brain each evening.
Yes I would recommend the Kong Wobbler to anyone that's looking for an easy way to help keep their dog busy and mentally fit. If you're looking for more ideas to keep your dog busy check out our 33 easy activities to keep your dog busy indoors.
Don't just take my word for it. There are over 1000 reviews of the Kong Wobbler on Amazon. Out of 5 stars it currently has a rating of 4.3. Not too shabby.
If you're looking for an easy way to keep your dog busy I would definitely recommend a Kong Wobbler – and I know Laika would agree. If you're looking for tough dog toys in general, rather than a food dispenser, check out our top 7 tough dog toy recommendations.
The Kong Wobbler is Great For:
Dogs that eat their food too quickly
Dogs that need some extra mental stimulation
Dogs that eat kibble/dry dog food
Dogs that enjoy puzzles/interactive toys
Video of the Kong Wobbler in Action
To see it in action check out this video review of the Kong Wobbler
Where to Buy A Kong Wobbler
Kong Wobbler's are popular enough that you can probably find on at your local pet store. If not they're available online at the following online retailers:
This post contains affiliate links, if you make a purchase I'll earn a small commission.