Indestructible Dog Toys: Our 7 Favorite Tough Dog Toys
While browsing through our destroyed dog toy graveyard the other day I realized something; we've gone through at least 100 toys over the past few years.
I was looking at all the scraps – the left arm of blue monkey, the half eaten face of moo moo, and what's left of daisy duck's torso. These guys never even stood a chance.
But we do have a few toys that have lasted, a few that my dog can't actually destroy. Here's my 7 picks for the best indestructible dog toys.

Indestructible Dog Toys: Not Many Pass the Test
"Help! My dog destroys new toys within minutes." Sound familiar?
You're not alone. Plenty of us buy "indestructible" dog toys, only to find them shredded up a few minutes later. We've gone through more than 100 toys over the past few years, but I'm finally able to say we've found a few truly tough dog toys that my dog can't destroy.
I have my doubts when it comes to dog toys being indestructible, no matter what the package claims. My dog has destroyed many toys that were labeled indestructible, some within minutes.

I don't care what sort of inverted sewing method was used to put it together – if it's stuffed Laika will find a way to destroy it. We did have one plush that lasted about a week – it was a blue Kong dog. But just as all the others before it met it's fate and now sits in the dog toy graveyard.
Rubber toys usually last a bit longer than stuffed, but I've been disappointed many times. I've bought many pull toys, balls, and oddly shaped rubber toys that  claimed to be indestructible. Indestructible enough for what? They don't fare well against the jaws of a Shepherd mix, that's for sure.
We all want to find toys our dogs can't destroy, toys that will keep them busy for hours, and toys that won't be destroyed within seconds. If you're looking for the toughest dog toys check out our top 7 picks below.
Kong & West Paw Zogoflex Toys Are Tough
What have I learned after going through 100 toys? There aren't many super tough dog toys out there, and even less truly indestructible ones. But there are a few brands that fare better than the rest — Kong & West Paw.
Out of all the toys we've tried the only ones that have remained in one piece after a few years are the Kongs, balls & West Paw Zogoflex toys.
They're not fancy, they don't squeak, and they don't glow, spin, or shake – but they last. They've endured Laika's jaws for years where many others have failed. When my dog is left alone with them I know they'll remain intact, no matter how hard she tries to destroy them.
What These Tough Dog Toys Have in Common
They're made to last & very durable
These toys are great for tough chewers
They don't squeak
None of these toys have stuffing
These toys are great for indoor games
They're the only toys I've found that my dog can't destroy
They're great toys for keeping your dog busy
My 7 Favorite Indestructible Dog Toys
So after going through hundreds of toys trying to pick our favorites there's only 7 that made the list; these are the best indestructible dog toys you can buy. Laika has had these for years and they're still in amazing shape. If your dog is a tough chewer I can't recommend these enough.
1. Classic Kong – The Most Versatile Dog Toy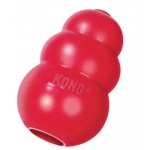 One of the basics in any dog owners home – everyone loves a nice classic Kong. I've found so many great ways to full a Kong, here's 39 foods & treats that are perfect for stuffing. It gives your dog something to work for, a simple job, a goal to accomplish. It's the easiest way I've found to keep a dog occupied with very little effort on my end.
Every time I leave for work Laika gets her Kong filled with some frozen peanut butter or broth; it works so well that she doesn't even pay attention to my departure. Every morning I'm left with the image of my dog with her nose shoved in that Kong as I leave. If you've ever had a dog with separation anxiety you know how amazing that is.
A classic Kong is great because of it's durability and multiple uses. Out of all the dog toys we own the Kong has found the most use over the years. And they're tough — after many years there's a few slight signs of wear but nothing that's punctured the material. They're nontoxic and dishwasher safe. Available here on Amazon.
Kongs Come in Sizes Appropriate for All Dogs
We've had a couple of these since my dog was a puppy for teething purposes and we still play with them 3 years later. If you have a really big dog these might be too small, but they still work well for my Shepherd mix that's 75 lbs.
Neither have any signs of damage, and the really small one is excellent for fetch in the house because it's so light. Sure it doesn't always land where you expect but it's so light it's not going to knock anything over. Great for small dogs and puppies.
The smallest Kong shaped toy we have (the small brown one in the image below) is the Griggles Satellite Dog Toy. The Griggles toy is smaller than my palm but somehow remains in one piece. Puppy Kongs are available at most pet stores and Amazon.
2. Chuck It! Max Glow Ball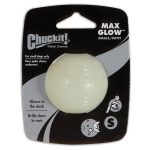 This glow ball is seriously awesome — I didn't think a lightweight ball of any kind stood a chance against Laika. But 3 years later it's still one piece, without any signs of wear or tear. I didn't think this ball would last a week because it's so light, but boy was I wrong. I have no idea what sort of magic this thing is made of but it's truly awesome.
The glow ball is light enough to play with indoors without having to worry about destroying the house. And as an added bonus it glows in the dark. And not just a little either, this thing is bright.
The only downside is that every time your dog chomps down on it it'll make a weird squishy type noise. It doesn't bother me in the least, but then again Laika has made that noise over a million times now I'm probably immune. The Chuck It! Max Glow Ball is available here on amazon.
3. West Paw Ball – My Dog's Favorite Fetch Toy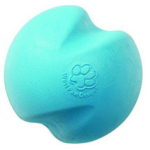 This ball has seen it all and it doesn't have a single mark on it. This is our go ball for games of fetch both indoors & out. When I'm not playing fetch with Laika she'll go and play with this ball in the kitchen. She absolutely loves bouncing it around on her own. 9 times out of 10 if my dog brings me something it's this ball.
The large size (3 inches) is perfect for my 75 pound dog, though I did read a few reviews that said this ball is too small for their extra large dogs.  If you suspect this might be too small for your dog check into the heavier Kong Ball. The West Paw Ball is available here from Amazon.
If you want something other than another ball check out the rest of the West Paw Zogoflex toy line. If your worried your dog is too much of a chewer they offer a free one-time replacement. Laika has 3 other toys from this line – the Hurley Bone and the Tux Treat Toy that are in great shape after a lot of use. Their Bumi Tug toy is one of our favorite tug toys, but it's not indestructible like the others.
4. Jolly Ball – Fun Dog Toy That's Hard to Puncture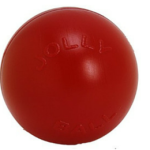 There's something so magnetic about a Jolly Ball to dogs, and I'll admit I don't really understand why. It's too big to pick up, and yet my dog never tires of chasing it. We play many soccer games in the great room with our Jolly ball, and Laika loves every minute of it.
I was worried that this toy wouldn't last after she somehow managed to get her teeth into it a few times – but it's lasted none the less.
It has a little bit of wear and tear, but she hasn't managed to break into it – even after a few years. Make sure to buy the classic version without the handle; dogs can grab onto that handle and tear right into it. The 10 inch version is what we went with – and it's perfect for my 75 lb dog. Available on Amazon.
5. West Paw Hurley Bone – Indestructible Dog Chew Toy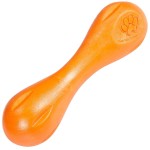 If your dog is in need of a tough chew toy I recommend the West Paw Hurley Bone. It's not huge or heavy, but it's pretty darn tough. Laika continues to try and tear this toy apart and has had no luck. It's soft and has a little bit of flex to it — it's the only 'chew toy' that has lasted more than a day. We've had ours for over 6 months and it still looks brand new.
It's light enough that it can be a decent fetch toy for indoors, and like all of the West Paw Zogoflex toys it floats in water and is dishwasher safe. West Paw guarantees their tough toys so if you're not satisfied they'll provide a one time free replacement. Available from Amazon.
6. Kong Ball – Great Heavy Duty Ball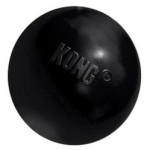 We got ourselves a Kong ball a few years back and I was surprised by how heavy it is. It's not great for playing fetch inside the home due to it's weight but it is indestructible. This is one tough ball; Laika has had it for years and you can't even see a single bite mark on it.
The Kong ball & West Paw ball are the only two medium/large sized balls we have that have lasted for more than a year. This ball is my favorite toys for playing fetch outside. Available here on Amazon.
 7. Benebone – Heavy Duty Chew Toy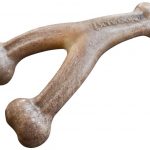 We've been using Benebones for over a year now and they're great. They're tough, they keep my dog busy, and they're inexpensive compared to other chew toys. After a couple of hours of chewing there's some slight damage on the ends, but it's nothing compared to what she does to similar toys.
Benebones are manufactured in the USA, made with real bacon flavor, and their curved shape makes it easy for dogs to hold onto. These bones will get some wear and tear after repeated use, but they're much more durable than other bones we've tried.
Want a Tough Dog Toy? Stick to Kong & West Paw Toys
If you want a dog toy that you can leave out without worry get yourself some Kongs, balls, and any of the West Paw Zogoflex toys. There are many toys out there that claim to be indestructible, but these are the few that have stood up to that claim. If I want a toy that will keep my dog busy I give her a Kong or ball.
As with any dog toy these are made much more exciting by interactive play. Get up and play a game of tug or fetch – one simple game can turn any boring old toy into something exciting for your dog. Running out of ideas on how to keep your dog entertained indoors? Check out our list of 33 easy ways to keep your dog busy & 26 simple ways to keep your dog from getting bored.
See the West Paw Zogoflex toys in action:
Why Do I Save All Those Destroyed Dog Toys?
I save all those toys as a reminder of how much I've spent over the years. It helps me focus on quality rather than quantity. Instead of buying dog toys impulsively I do a bit of research now. I want toys that last, not more scraps.
The scraps also make for a fun scavenger hunt for my dog. I've spent a lot of time teaching Laika the names of these toys, and we still use them for the go find it game. And for fun once in a while I'll tie all of the scraps together to make 'mega toy,' and that's always a big hit.
What Are Your Dogs Favorite Indestructible Dog Toys?
Does your dog destroy toys? Do you have any favorite brands? Which indestructible dog toys would you recommend?
Do you have a dog toy graveyard of your own? If you do I suggest going over to them and tying them altogether, then watch the delight and enthusiasm on yourd dogs face as they receive their very first mega toy. (it seriously makes Laika's day, every single time)
This post contains affiliate links which means if you make a purchase I'll earn a small commission.