Pickles: The Dog Who Saved the World Cup
Meet Pickles: The Dog Who Saved the World Cup
Today I present you with a quick & quirky lesson in history; the story of a dog named Pickles whose credited with saving the World Cup.
In March of 1966 the World Cup was stolen while on public display at Westminster Central Hall. The trophy was stolen while guards were on break, so the details of the robbery were unknown. News of the event went global, as this was just 3 months before the World Cup in England was set to begin. Police at Scotland Yard investigated the case, but they were left with few leads.
A ransom note for the trophy was sent to the FA chairman, and the police advised him to agree to the deal. When police met the man, Edward Betchley, there was no sign of the trophy. Betchley claimed to be a middle-man, and his exact involvement in the case remains unknown. He was charged with demanding money with menace, and was eventually sentenced to two years in prison.
A few days later a local man named David Corbett was out walking his dog, a Border Collie mix named Pickles. During their walk Pickles led Corbett over to to a shrub in his garden, and there he discovered the trophy. It had been wrapped in tightly bound newspaper and hidden under a hedge. Corbett handed the trophy over to his local police station, and worldwide coverage of the incident began.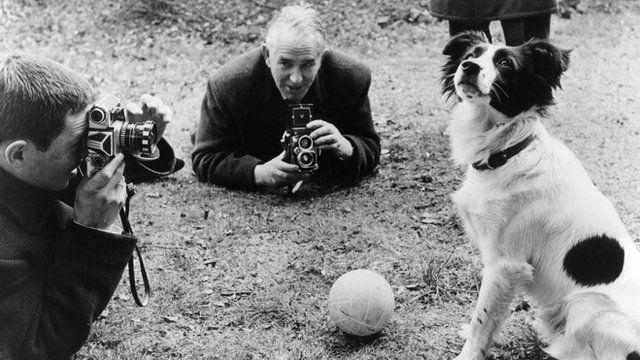 Corbett was given a 5000 pound reward, five times the amount England players got for winning the trophy. Pickles was named dog of the year and given a years supply of dog food. He also starred in the film The Spy With The Cold Nose.
After England won the trophy, beating West Germany in glorious fashion in the final, Mr Corbett and Pickles were invited to the winner's banquet – with the hound given the honour of licking Mr Corbett's dinner plate clean. – Mirror
The trophy was stolen again in 1983 while on display in Rio de Janerio, and it hasn't been found since.