Roundup 101: Favorite Dog Articles & Videos of the Week
Spring has sprung around here, and of course Laika couldn't be happier. I don't know which season is her favorite, but I do know spring is a very fun time for dogs. When else do magical piles of mud appear all over the place?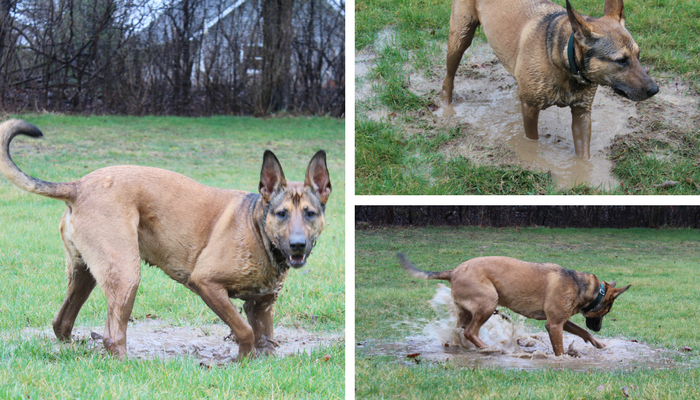 Are dogs capable of deep thought while playing in mud? The upper right photo seems to suggest it's possible. I imagine she was right in the middle of pondering where this mystical mud that wasn't there the day before came from, or whether or not world peace is attainable in her lifetime. But in reality she was probably just thinking about cheese or deer poop.
And if you're saying to yourself 'geez, those photos seem a bit blurry and off' you're absolutely right. I've found that the best position to photograph a dog in mud is no less than 20 feet away. I'm willing to have my photography skills take a hit if it means I myself don't get covered in mud. (and that's mostly due to laziness, I mean I already have to give the dog a bath do I really have the energy to change clothes and bathe myself twice in one day?)
Onto the less muddy side of things… It has been a really great week for dog articles. From the importance of enrichment to the ability of dogs to adopt our perspective, here's some of my favorite dog articles of the week. I hope you enjoy them as much as I did.
Favorite Dog Articles of the Week
The Importance of Enrichment | Academy for Dog Trainers
Great post about just how powerful enrichment is for our dogs, and how it can make a big difference when it comes to training and their quality of life.
Therapy Dogs Making a Difference for Children | Dogs Luv Us and We Luv Them
Touching look at some of the great work therapy dogs do for children.
Dear Moms Who Get Mad When I Call My Dog My Baby | The Daily Tay
This post is over a year old, but it's just too good not to share.
Rules of Engagement | Schutzhund Life
Great post about the rules of engagement, and tips for increasing your dogs focus.
7 Ways to #GetTough Against Dog Fighting | Sarcastic Dog
Tips on how to stop dog fighting, and a good reminder of how ineffective many of the current laws regarding dog fighting are.
You Spy With Your Little Eye, Dogs Can Adopt the Perspective of Humans | Science Daily
New study confirms what previous findings suggested – that dogs have the ability to figure out what humans can or cannot see.
Favorite Dog Videos of the Day
Another inspiring rescue from Hope for Paws.
Reunion after a year apart.
Why am I so transfixed by this?