Roundup 99: Favorite Dog Articles, Videos & Deals of the Week
I've mentioned once or twice how I have Laika help me with tasks like laundry & digging holes for the garden. She's also pretty good at helping to clean up after a record breaking wind storm leaves millions of sticks & branches all over the yard.
And the best part? She enjoys it. Some days you do get to have all the sticks.
Well until you start chewing them up at least. Because at that point your owner will inevitably come over and take away those fun sticks and proceed to lecture you about your life choices and why it's a risky behavior.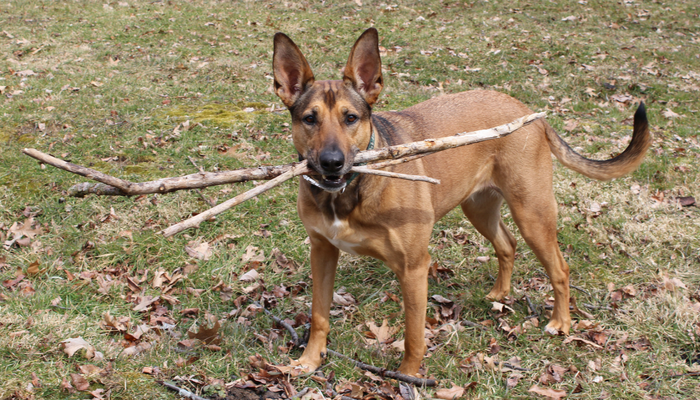 Stick drama aside it has been a great week for dog stories. From a great response to an article on raw feeding to some tips on dealing with reactivity, here's some of my favorite dog articles of the week. I hope you enjoy them as much as I did.
Favorite Dog Articles of the Week
7 Reasons Psychology Today Knows Dick About Raw Feeding | Keep the Tail Wagging
Love this response to that silly article about raw feeding. Even as someone whose neutral in the pet food debate I have to say that the argument against raw diets because of possible contamination gets old. I imagine the people who make this argument assume raw feeders just have one bowl in the house that they feed everyone from (pets & kids included), and that they run around saying "I don't know what to do after touching raw meat, should I put my hand in my babies mouth?" every night. It feels a little condescending, and it doesn't actually prove anything in regards to the nutritional value of a raw diet to dogs.
How to Handle Reactive Dogs | Patricia Mcconnell
Comprehensive, bookmark worthy resource for managing reactivity.
Falsifiability or Falsehood in Dog Training? | Eileen and Dogs
Great article about science based training, and why it's more complicated than just proving results with x number of dogs.
Judge Lets Dog, Once Thought Wolf Hybrid, Go Home | The Denver Post
Resolution to a case that started in February when Capone the dog was picked up by animal control. They were holding him on the suspicion that he might be a wolf hybrid, but a DNA test proved he's 100% dog and he's now allowed to go back home.
21 Year Old Inspired People to Share Photos of "Vicious Pit Bull Attacks" | Buzzfeed
There's something so endearing about seeing the public (in this case Twitter) get involved in these sorts of threads. Just because the media (and some politicians) tends to be biased against Pit Bulls doesn't mean the rest of the world is buying it.
ACTUAL VICIOUS PITBULL ATTACK pic.twitter.com/G6ytR3WvKX

— jabroni (@girlbitesback) March 15, 2017
Favorite Dog Videos of the Week
Another inspiring Hope for Paws rescue.
Just one more scratch please.
Favorite Dog Deals of the Week
FURminator de-shedding tool for short hair in small 35% off – Amazon
OxGord orthopedic pet bed extra large 56% off – Amazon
ChuckIt max medium glow ball 58% off – Amazon
This post contains affiliate links, if you make a purchase I'll earn a small commission.