Roundup 48 – Favorite Dog Articles, Deals & Videos of the Week
Do you have a Netflix account? If you do I suggest checking out Dogs on the Inside, a great inside look at a prison dog program. It follows prisoners inside a Massachusetts prison as they pair up with rescue dogs to work together towards a second chance at a better life.
Is it obvious from these photos that I'm holding a really stinky yet delicious treat?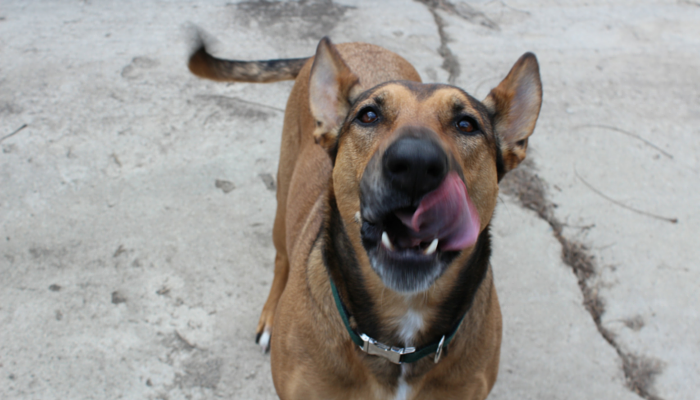 From the ethics of extreme breeding practices in certain breeds to the behavioral issues associated with pet store puppies; here's my favorite dog articles, deals & videos of the week. I hope you enjoy them as much as I did.
Favorite Dog Articles of the Week
Crufts Plunged Into Cruelty Row Over "Deformed" German Shepherd
It's ridiculous that German Shepherds (and Bulldogs) are being bred to such extremes. And very questionable as to why a dog that has such an irregular gait was even allowed to compete to begin with. As this article points out the welfare of dogs is a responsibility held by all of us. Objecting to unwanted changes in breeds is not hysteria, it's the right thing to do.
Cesar Millan & The Pig
Objective & well researched article that looks at numerous arguments that have arisen following the recent Cesar Millan animal cruelty investigation.
Too Much of a Good Thing? My Thoughts on Multi-Dog Homes
How many dogs do you think a person should have? Thought provoking article that looks into that question; and whether or not there is a correct answer.
The Effects of Seeing Animal Abuse on Children's Mental Health
Important look into a recent study that found children who have witnessed animal abuse at home has important implications on the mental health & well being of children. While this may seem obvious to some remember that unless there's clinical data to back something up it's not necessarily going to be treated as a "real" problem.
Are Dogs Purchased From Pet Stores More Aggressive?
Over the past few years reports have suggested that the stressful conditions & lack of socialization of pet store puppies can lead to behavioral problems. Here's a look at a recent study that found that aggression towards family, separation anxiety & house soiling are more common in dogs purchased from pet stores versus those from breeders.
Best Dog Deals of the Week
Classic Red Kong Dog Toy 53% Off – Amazon
Nature's Miracle Stain & Odor Remover 47% Off – Amazon
17% Off & Free Shipping on Orders of $79 or More  w/code AFLUCKY17 thru 03/25 – Only Natural Pet
Favorite Dog Videos of the Week
Say what you will about her acting.. I think it's pretty sweet 🙂
Predictable? Yes. Still funny? Yep.
"A rescue dog saved my life." Tissues needed = high.