8 Photos of Happiness: And Yes, There Will Be Dogs
When I got a chance to participate in 8 Photos of Happiness I was very joyous indeed – having a chance to share some of my favorite dog photos? Heck yes, I'll take it. (and not to mention I'll give you a break from my 'personal word vomit' aka tendency to get carried away with words)
I want to thank Kelsie from It's Dog or Nothing for the nomination, and give a shot out to Ariel's Little Corner of the Internet for starting all this fun.
Throughout my life one thing has been constant – my dogs have brought me happiness. Here's a look at my beloved companions, past and present.
8 Photos of Happiness: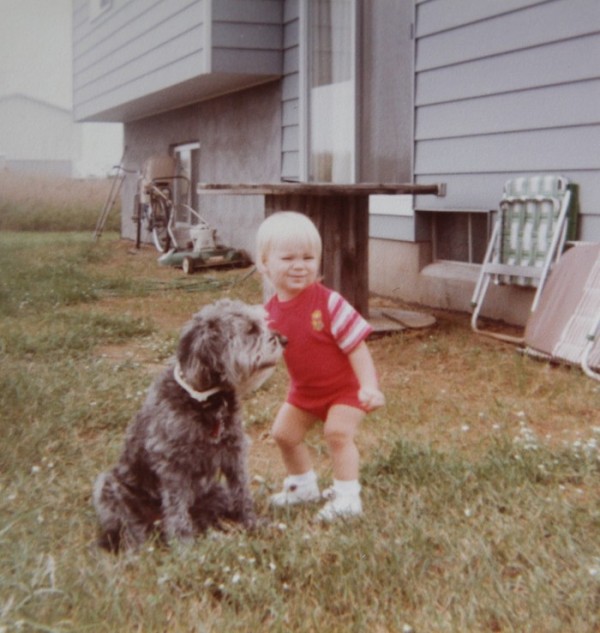 Here's my first dog Mindy, she was such a good girl, and my constant shadow. You might remember her from the introduction in my bite prevention post. She taught me a very important lesson; dogs are living beings that need respect, not just a child's play thing.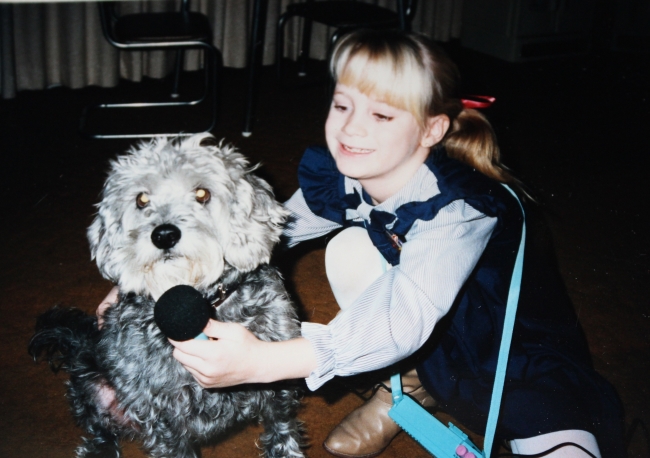 Mindy & I a few years later. Did I mention how tolerant she was? What dog doesn't love karaoke, or being lucky enough to live in a one child household? 🙂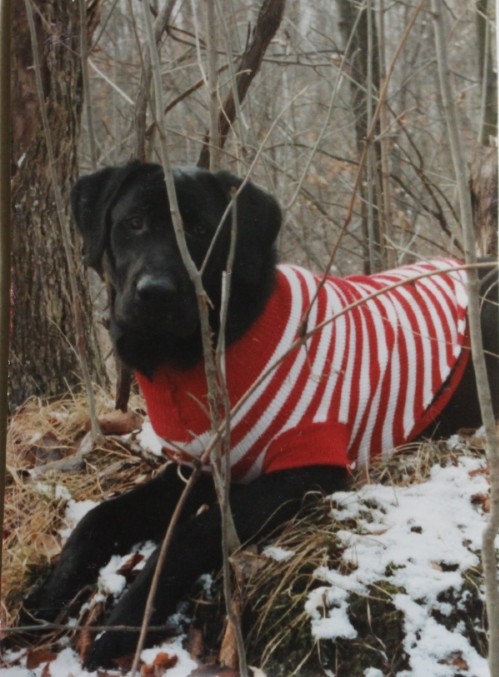 Bear was my second dog, he was such a happy-go-lucky-guy. He loved everyone and everything, and had no problem modeling for my amazing "wilderness" photo shoots. What says wilderness more than a striped sweater anyways? My first memory of him is our ride home together when he peed all over my lap.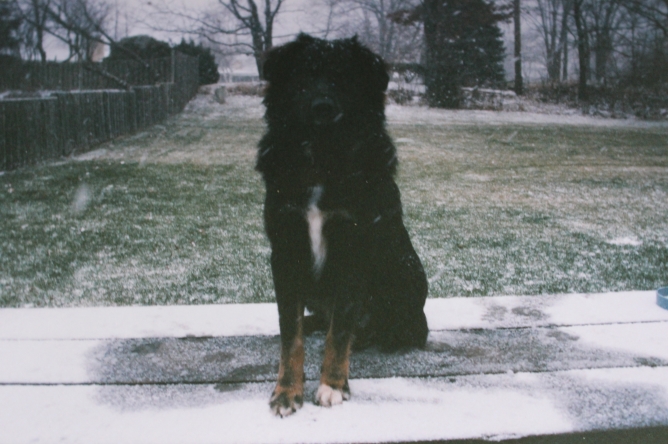 This is Carter aka the laziest and dog I've even known. From a young age he was always ready to lay relax or lay in the shade. Oh sure as a pup he'd play with Bear or a couple minutes, but after those two minutes were up it was time for a nap. He's the poor guy I shaved because I though it would help keep him cool.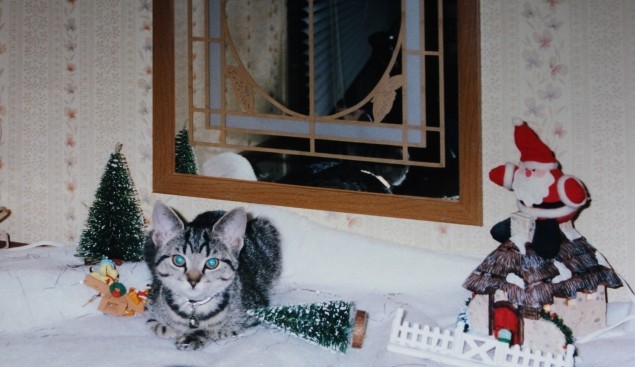 Here's Ki-Ki attacking a Christmas village. (and yes her name was "Key Key" because it got her attention more than any other name I tried) When she wasn't terrorizing little villages she was generally very laid back and quiet, though her & Bear often woke me up from their crazy 6am wrestling matches outside my bedroom door.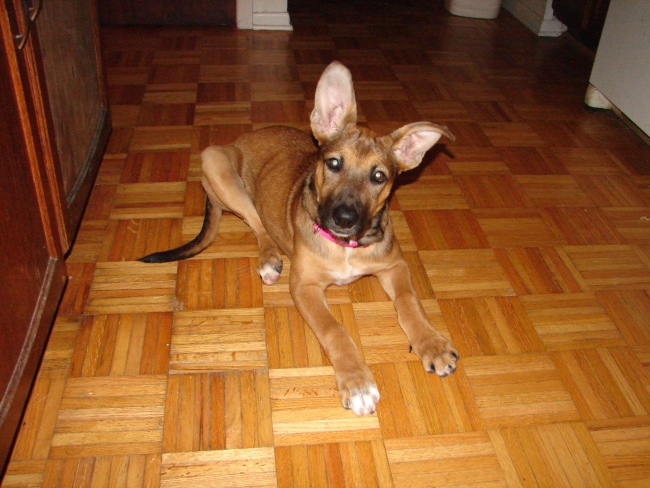 Here's Laika and her ears on her first day home, shortly after we fought over that stupid rawhide. Despite that little misstep it was still a very happy day.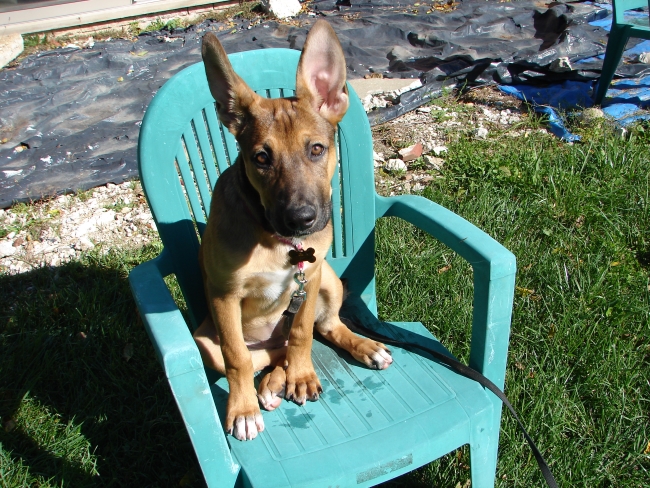 Shortly after getting Laika she started helping me with chores around the home. Here she is sitting proud shortly after our patio demo. There's just something about her love of sitting in chairs that still gets to me.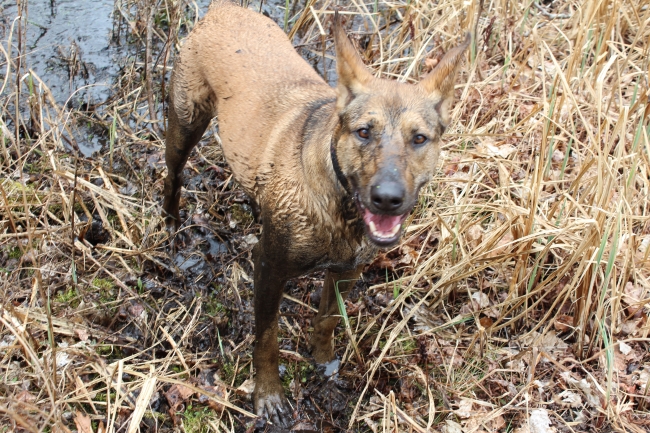 And for the finale here's a recent photo of Laika that makes me smile. The dirtier the dog the better, right? That's what she thinks at least, and I'm guessing your dog does as well.
The Rules For Participating
Well, those are my 8 photos of happiness, and now here are the rules:
Thank the person that tagged you.
Give a shout-out to the originator, Ariel's Little Corner of the Internet.
Post 8 photos that make you happy.
Give a brief description of each picture.
Tag up to 10 people to participate.
And my nominations? Well I'd like to see 8 photos of happiness from everyone. I'm going to take a cue from Pamela at Something Wagging and say if you want to participate please do. I don't want to nominate anyone myself because some people find it burdensome.
But if you do participate let me know, I love seeing photos from my favorite bloggers.