How I Finally Understood the Importance of Patience in Dog Training
I used to say things like 'I'm going to teach Laika how to roll herself up in a blanket in 3 days,' but lately I've adapted more of a 'just keep improving' attitude. Because when it comes to dog training I've come to believe that there isn't a perfect time frame everything, we deal with what we've got. I feel like I've finally come to understand the the importance of patience in dog training. Some things are taught quickly, and others take awhile.
Now don't get me wrong- having goals is good, and it helps tremendously to get things done. But when it comes to dog training? I don't like setting strict time frames, they tend to backfire. They usually end up with me just repeating nonsense over & over to my dog, hoping for a miracle. But that sort of repetition is pointless without comprehension. And do you know how I learned that lesson? From a French teacher I had in college.
Keep Repeating It, Maybe It'll Just Make Sense
I had a French teacher in college that I'd classify as having very little patience. It was beginner's French, and from day one she had a 'no English allowed' in class rule. I was confused by 99% of the things that came out of her mouth, but I decided to give it a shot. I was thrilled as we began learning numbers & the alphabet, something I could easily follow along with, but when it came to putting together phrases? Shit I was lost.
My teacher came up to me and said 'quel est votre passe-temps favori?' which sounded like complete gibberish to me. I knew she was asking me a question, but hell if I knew what it was. So I said 'I'm sorry I don't understand.' Well that broke the no English in class rule, so I just froze because I hadn't the slightest clue as to how to apologize in french.
So what did she do? Did she move onto a student who might know the answer? No. She kept getting closer & closer to me, repeating 'quel est votre passe-temps favori?' over & over, each time a little bit louder. As if I had a hearing problem, rather than a complete lack of comprehension.
I think about that class often, and how horrible of a feeling it is to have zero understanding of what it is that someone is asking of you. I really did feel hopeless, and the laughter from everyone else in class didn't help. It's not that she was a bad teacher, it's just that she had very little patience for students (me) that didn't catch on immediately. And rather than stick with a class I wasn't comfortable with I ended up transferring to Spanish, and I'm happy to say things went much smoother there.
I later learned that 'quel est votre passe-temps favori?' is asking you what your favorite hobby is, and if I were smarter I would have smugly replied 'learning Spanish.'
Repetition is Pointless Without Comprehension
So what does all this have to do with dog training? Well, it taught me to be way more patient with Laika when learning new stuff. And that words are pointless when they don't have meaning – no matter how many times you repeat them. If she doesn't get something the first time I look back and try to figure out what she's having a problem with rather than just repeating it over & over, louder & louder, hoping for a miracle.
When we work on a new command I take it slow, and I try to ensure that she understands exactly what I want. Just repeating 'go get your glow ball & bring it to me' over & over is pretty pointless when we're still struggling with what 'bring it to me' really means. (no Laika, it does not mean bring it close to me and run away)
There's a lot of parts to the language we use, and that's especially true when training commands that have more than one part. I imagine we sound an awful lot like adults to do Charlie Brown when we're trying to teach our dogs new stuff. Wah, wah, wah. New words don't make any sense without the proper context, whether you're a dog or a human. So rather than just repeating nonsense to Laika over & over I try to make sure each word has some meaning. And if doesn't? Well we go back until it does.
Some commands can be taught quickly, and others take awhile. And since I don't want my dog to be like the awkward kid in class who has no clue what's going on I keep that memory of French class in mind. (I have doubts that repeating yourself to your own dog makes them feel as awkward as I did in French class, but the point of repeating gibberish over & over being rather pointless still stands.)
I don't want my dog to feel discouraged, I want her to enjoy learning new things. The last thing I want is for her or I to get frustrated with one another while training. So I don't speak loudly at her or repeat myself in frustration when she just doesn't 'get it.' I go back and figure out how I can help her understand and put meaning to my requests. Repeating stuff over & over is only good when someone knows what in the hell you're saying to begin with.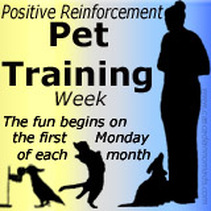 The Positive Pet Training blog hop is hosted by Tenacious Little Terrier, Wag n' Woof Pets and Travels with Barley. Please join us in this hop by posting your positive pet training stories, it is open through Sunday. This month's theme is "Training Tools" but you may share any positive pet training story! Please enjoy the posts below as well.