Roundup 93: Favorite Dog Articles, Deals & Videos of the Week
Dude we finally got some snow, and to say we're thrilled is bit of an understatement. OK so Laika might be slightly more thrilled, but at least I finally figured out that my cloth boots = wet, cold feet and that a nice pair of real winter boots is a pretty wise investment. And it's those kind of little revelations that that make me wonder why I assumed that adults were magical wizards who knew all when I was growing up. Adulting can be just as perplexing.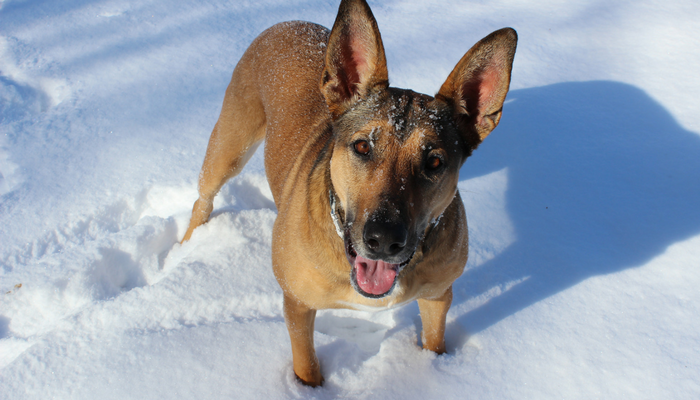 From how dogs are helping cancer research to a super cute doggie DIY keepsake, here's some of my favorite dog articles of the week. I hope you enjoy them as much as I did.
Favorite Dog Articles of the Week
Dog's Similarities Boost Human Cancer Research – CNN
Interesting look at the field of comparative oncology, and why it's promising when it comes to finding clues to treat cancer more effectively.
Consider the (Caregiver) Placebo Effect – The Science Dog
Great look at the placebo effect when it comes to our dogs, and the effect that can have we're personally invested in seeing an improvement.
My Dog Got Kicked Out of Class for Being a Jerk – That Mutt
Story that anyone with an unruly pup can relate to, and an important lesson that sometimes what seems like a negative can end up being something much more positive in the long run.
Help Make 2017 The Year These Dogs Go Home – Daily Dog Tag
Do you have a soft spot for rescue dogs? Here's a lovely showcase of some super great dogs waiting for their forever homes. And if you can't adopt you can help just by sharing.
DIY Paw Print Love Plate – Kol's Notes
I love this idea for a nice personal keepsake, and the end result is super cute.
Favorite Dog Videos of the Week
I think the Charleston Area Firefighter Calendar is a hit with this focus group 🙂
Another great Hope for Paws rescue
Favorite Dog Deals of the Week
Bob-A-Lot Interactive Dog Toy in Small 20% Off – Amazon
Gentle Paws Nail Dremel 25% Off – Amazon
Chuck It Glow Ball 23% Off – Amazon
This post contains affiliate links, if you make a purchase I'll earn a small commission. (And there's a 99% chance that it'll be used to buy more fun stuff for Laika)