Gentle Labrador Seeks Forever Home – Adopted
Gentle Labrador Seeks Forever Home
Are you looking for a sweet and gentle companion? Gregory is a 10 year old black Labrador Retriever who loves life. Unfortunately his previous owner could no long care for him so he ended up being surrendered to the Oakland County Animal Pet Adoption center in Auburn Hills, Michigan.
Senior Dogs Come With Benefits
There are so many great reasons to adopt a senior dog:
They love cuddling and relaxing
They're already trained
They make instant companions
They fit into your lifestyle/household with ease
They can still learn new tricks
What you see is what you get; you'll know if his temperament is right for you when you meet
You'll be saving his life; he'll be grateful and give you love in return
Come up to the shelter and take Gregory for a walk; you'll fall in love with this older gentlemen. You can see more about Gregory on his petfinder profile.
"The one absolutely unselfish friend that man can have in this selfish world, the one that never deserts him, the one that never proves ungrateful or treacherous, is his dog."

-George Graham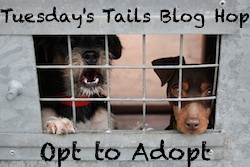 The Tuesday's Tails Blog Hop is hosted by Dogs N Pawz and Talking Dogs.