A Dog Named Pig
 A Dog Named Pig

You can now follow pig's adventures on her facebook page.  She has gained over 6500 followers over the past few weeks.
Update 6/23 – Pig continues to capture the hearts of many, she's become an internet sensation over the past few weeks.  She's just too adorable not to love :



@al.com

@al.com
@al.com





You can see video of Pig on USA Today.
Pig was born in Atlanta – she was abandoned alongside her littermates in the woods. Her tiny size and birth defects make it amazing that she survived.  Her littermates were able to beckon for help while little Pig stayed behind. Soon the pups were in the care of some good people who took them in.
Pig is an 8 month old Akita mix, she's missing some ribs, part of her spine, she has twisted vertebrae and her spinal cord splits in two by her neck.  She might look like a photoshop but she is the real deal and when her owner Kim Dellenbeck met her it was love at first sight.
Dillenbeck took a trip to see her sister in Atlanta.  Upon chance she happened to meet Pig.  Pig was being cared for by a neighbor of Kim's sister. When Dillenbeck met Pig she immediately decided to adopt the pup.  The two of them now live in Alabama together.
Dillenbeck isn't sure what Pig's future holds, she is still growing and gaining another 20 pounds could kill her. For now they live a normal life in Alabama together, though Pig does draw a crowd anywhere she goes. "I'm the lucky one, she makes me laugh everyday" Dillenbeck said when asked about Pig's luck for being adopted and living a normal life.  Read more at AL.com.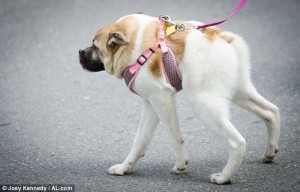 Pig -Mark Almond/malmond@al.com