Roundup 88: Favorite Dog Articles, Videos & Deals of the Week
You know Laika's favorite part of the season is? Snow. Doesn't matter if it's less than a half inch or 5 feet tall – she loves it all. Luckily her enthusiasm is enough to get me out of the hibernation mindset, so even my grumpy self gets to have some fun with it. It's hard not to have fun when just the mere existence of snow turns your dog into a happy, frolicking goof.
And of course the inevitable snuggle time on the couch afterwards is a pretty nice. Cocoa + a comfy couch + the company of a great dog = my idea of a perfect evening.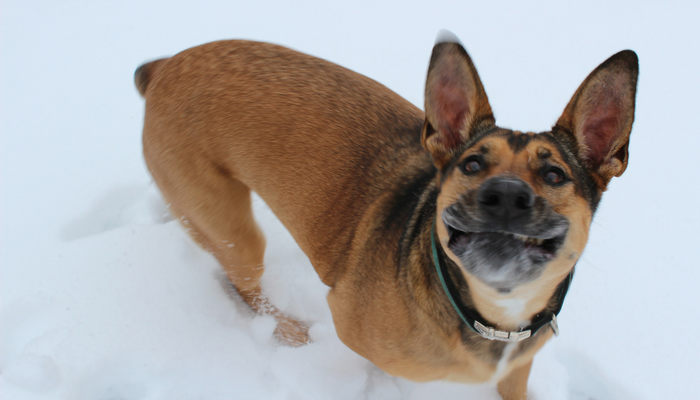 Enough about our snow escapades, let's move onto the task at hand – all of this weeks good dog stuff. From how Congress is one of the most dog-friendly work environments around to the importance of getting stray animals checked out by your local shelter, here's some of my favorite dog articles of the week. I hope you enjoy them as much as I did.
Favorite Dog Articles of the Week
Despite Partisan Rancor, Democrats & Republicans Can Agree On Dogs | NPR
Did you know that some lawmakers have been bringing their dogs to work since the 1800s? Interesting look at how Congress is one of the most dog-friendly work environments around.
Fake Dog News | Fearfuldog's Blog
Thought provoking piece about how fake news goes beyond just political stories, and why it's important to think twice before believing everything that's written about dogs.
The Grief of Losing a Pet is Traumatic. Why Don't We Talk About It? | The Guardian
A look at how complex & deep our relationships with pets are, and the question of why we don't broadly acknowledge the grief we experience after losing a pet.
With a Little Help From my Friends | The Science Dog
Interesting study on the effects that training may have on our dogs in the long run, specifically how likely they are to ask us for help when solving problems.
Favorite Dog Videos of the Week
Dog waiting patiently for some ice cream.
Favorite Dog Deals of the Week
Kong Cozies Moose Squeaky Toy 62% Off – Amazon
OxGord 1,000 Count Poop Bags 53% Off – Amazon
BSeen USB RechargeableLed Dog Collar 47% Off – Amazon
This post contains affiliate links, if you make a purchase I'll earn a small commission.