Quick & Easy Peanut Butter Dog Treats
Looking for a nice, simple dog treat recipe to try? These quick & easy peanut butter dog treats are a favorite of mine. They're easy to make and quick to bake, and as an added bonus they'll make your kitchen smell awesome. And since my dog is a fan of anything with peanut butter they always get a big seal of approval from her.
And if you're looking for more homemade dog treats be sure to check our our list of 25 simple dog treat recipes, all made with 5 ingredients or less.
Quick & Easy Peanut Butter Dog Treats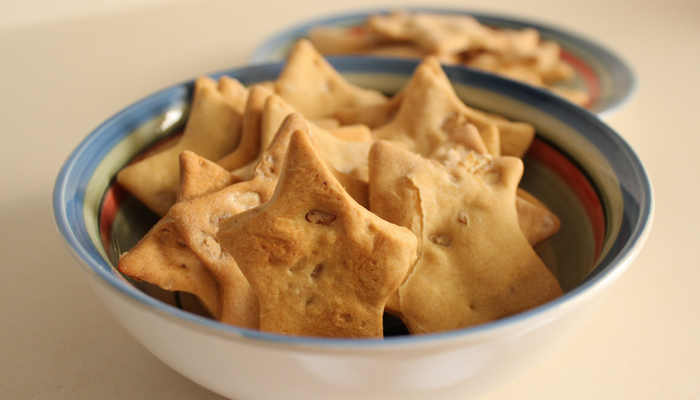 Ingredients
2 cups flour
1/2 cup creamy peanut butter*
2 eggs
1/4 cup water
You can use other kinds of peanut butter such as chunky, but if you do you'll probably need to add more water to the mixture in order to make it into workable dough.
Instructions
Preheat your oven to 350 F.
Mix together your flour, peanut butter & eggs in a large bowl until slightly combined.
Add in a little bit of water (approximately one Tbsp at a time) until the mixture becomes wet enough to roll out as dough.
Roll out your dough & cut out your favorite shapes with some cookie cutters.
Place your treats onto your baking sheet & cook for about 15 minutes. For a little bit of crunch I like to take mine out once the bottoms start to darken.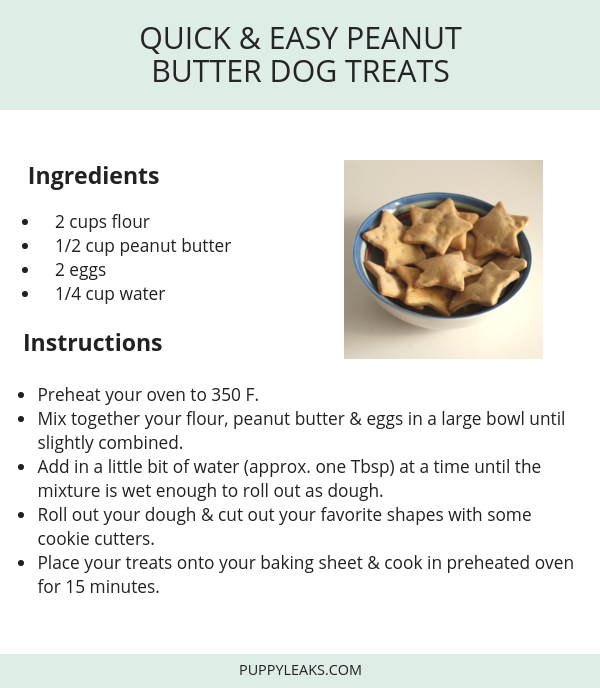 If you use regular sized cookie cutters this recipe will make 36 treats (it makes 3 baking sheets worth of treats). For storage these can be kept in the pantry for a week. Since this recipe makes so many treats I usually keep half in the pantry and freeze the other half for later.
If you don't have any cookie cutters on hand you can use a knife to cut out some fun shapes, or you can make some DIY cookie cutters of your own using soda cans.
And if you're not a fan of chunky looking treats stick to creamy peanut butter for a nice polished look. I have no idea why I opted for chunky peanut butter. Lesson learned Jen, lesson learned.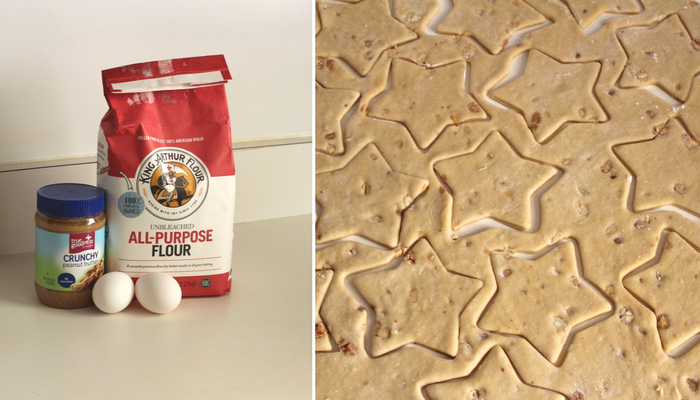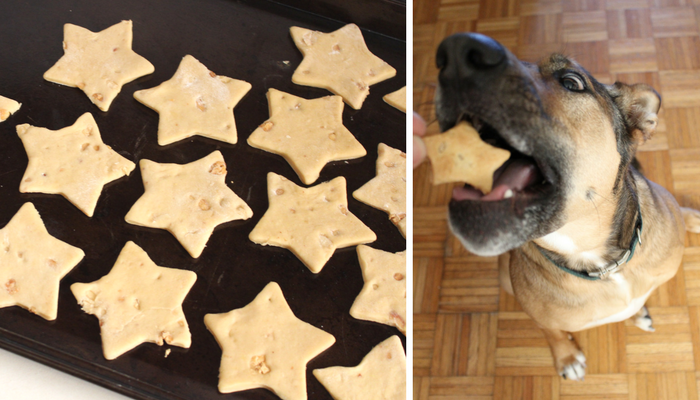 Enjoy making homemade dog treats? Be sure to check out our list of 25 Simple Dog Treat Recipes.