Quick & Easy Apple, Peanut Butter & Oat Dog Treats
Looking for a nice & simple dog treat recipe to make? These quick & easy apple, peanut butter & oat dog treats are a favorite of mine. They're easy to prepare and quick to bake.
And since my dog Laika is a fan of anything with peanut butter they get a big seal of approval from her.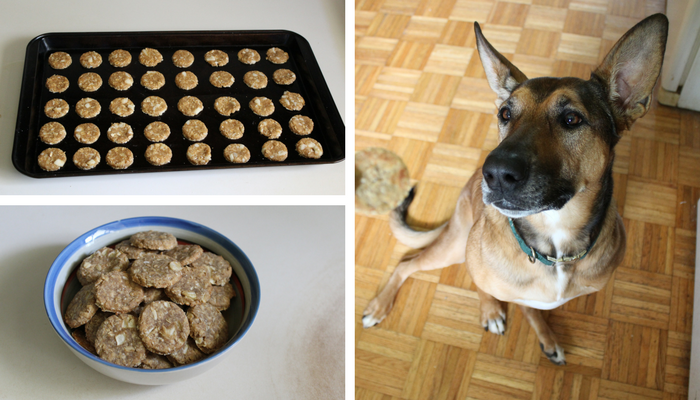 Apple, Peanut Butter & Oat Dog Treats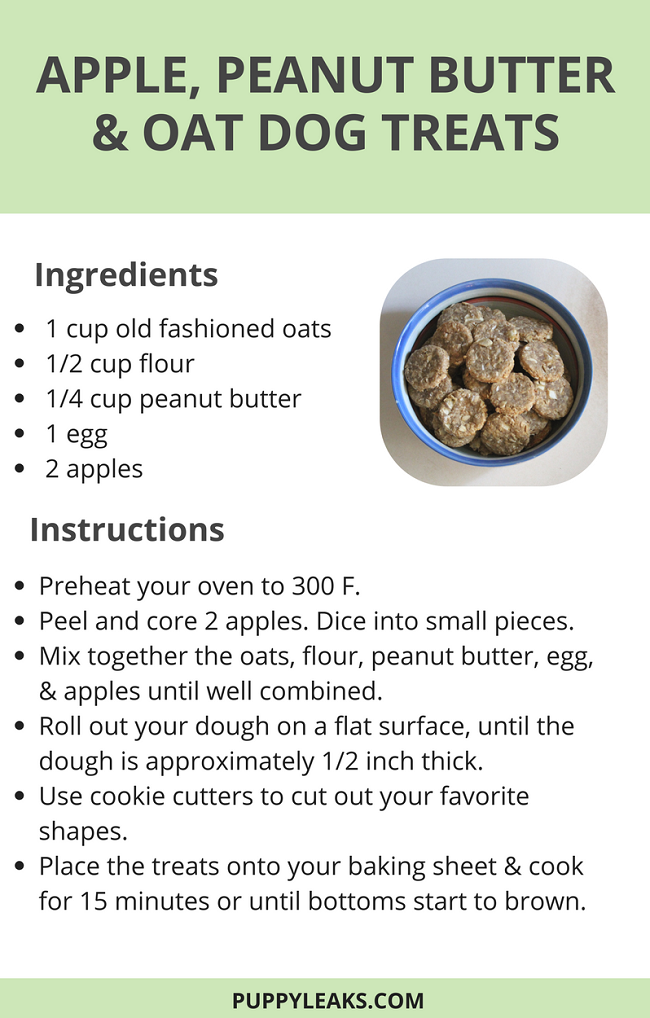 Ingredients
1 cup old fashioned oats (aka rolled oats)
1/2 cup flour
1/4 cup peanut butter
1 egg
2 apples (I used small Gala apples)
If you use chunky peanut butter rather than creamy you may need to add more moisture when making the dough. If your dough ends up extra crumbly just add 1 tsp of water at a time until you can roll it as dough out on a flat surface.
And remember to check that your peanut butter does NOT contain xylitol (an artificial sweetener that can be fatal to dogs).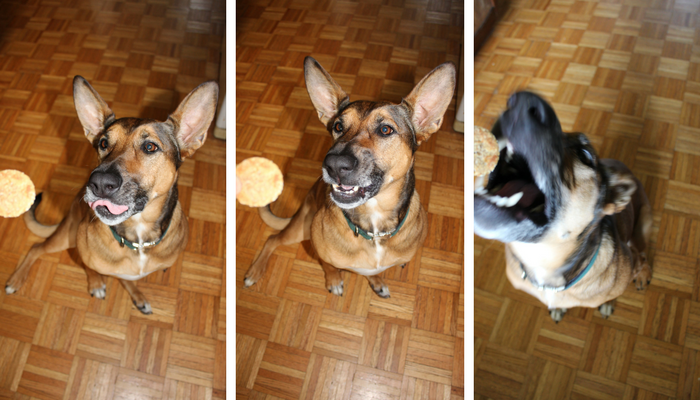 Instructions
Preheat your oven to 300 F.
Peel, core and grate 2 apples.
Mix together the oats, flour, peanut butter, egg, & apples until well combined.
Roll out your dough on a flat surface, until the dough is approximately 1/2 inch thick.
Use cookie cutters to cut out your favorite shapes.
Place the treats onto your baking sheet & cook for 15 minutes.
This recipe will make approximately 36 1″ diameter dog treats.
If you don't have cookie cutters you can use a knife to cut out some fun shapes, or you can make some some cookie cutters of your own using soda cans. I prefer using the top of a shot glass to make bite size treats; just be careful not to push down too hard.
Storage Recommendations
These dog treats will keep 2-3 days in a sealed container (due to the storage life of apples), and another 4-5 days in the fridge. I usually keep half of the treats in the fridge and freeze the rest for later.
If you want dog treats that will last longer than a couple of days at room temperature you can simply omit the apples and still end up with a yummy peanut butter flavored dog treat.
If you're looking for more dog treat recipes be sure to check out our list of 25 easy dog treat recipes made with 5 ingredients or less.